---
Academics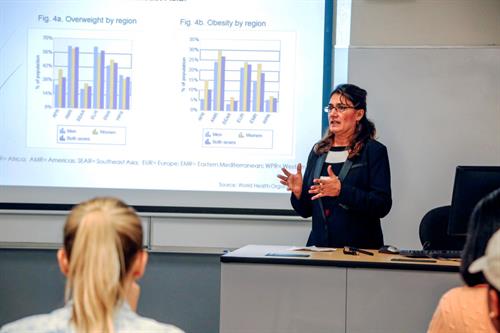 MDC Tops List for Visiting Fulbright Scholar
As a Fulbright Scholar and visiting research professor at the University of Arkansas, Dr. Yésica Mayett Moreno has her choice of which institutions around the country she shares her research with through the Fulbright Outreach Lecturing Fund. Miami Dade College naturally topped her list, due to its outstanding reputation.
"I liked the prestige of Miami Dade College," said Mayett Moreno, an academic director from Puebla, Mexico, whose research focused on how marketing impacts nutrition in developing countries. "I saw the degree programs available at MDC, and I knew there were students here who would appreciate and understand my research." 
Mayett Moreno capped off her three-day visit to MDC with a lecture to an economics class taught by Professor Michael Sealey. Her presentation focused on consumers in Mexico and the ways in which food marketing influenced their eating habits and the national  levels of obesity in comparison to similar demographic groups in the United States.
"This discussion helped broaden my understanding of the subject matter and definitely gave me ideas for my own potential future research," said MDC accounting sophomore Erick Aguado. "Presentations like this are always helpful and enlightening."
Pleased with the lessons his students learned from the discussion, Sealey said, "It's very good to expose students to this information and give them an idea of what's going on in other countries. The students gained valuable insight into various business activities, which is exactly what we're aiming to accomplish in these courses."
— NN
More Academics Articles