---
Cultural Spotlight
Coaching Young Actors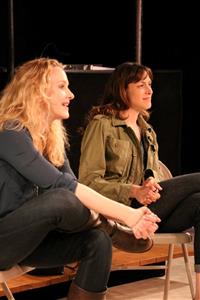 NWSA alumna Katie Finneran and Natalie Gold spoke at a workshop with NWSA students.
Tony Award-winning actress and New World School of the Arts alumna Katie Finneran recently spoke at a New York City workshop to the conservatory's BFA students performing a showcase there. Fellow actress and alumna Natalie Gold joined her to encourage students to carve their own path.
"The workshop was another lesson in accepting that everyone's road to success is different," said NWSA student Christopher Ferrer. "What matters is the passion, determination and effort you're willing to give."
Finneran most recently portrayed Belle Rayburn in the Netflix hit Bloodline, performing with Ben Mendelsohn, Sissy Spacek, Kyle Chandler and Linda Cardellini.
New World School of the Arts is a shining example of the exceptional collaboration of Miami Dade College, Miami-Dade County Public Schools and the University of Florida.
More Cultural Spotlight Articles