---
Features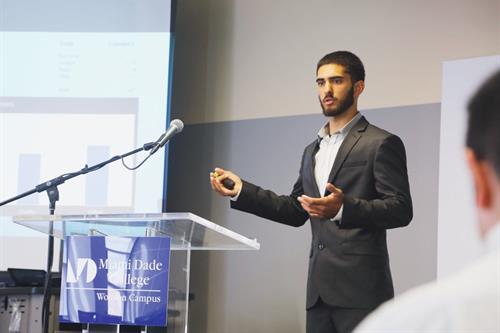 A Winning Idea
The field of competitors for the second installment of The Idea Center's Startup Challenge has been whittled to 10 finalist teams who each hope their business idea will take home the first-place prize money to help fund their venture.
Now in the final phase of the competition, teams recently completed the customer discovery phase, where they received feedback from current users of their product or service. They also are continuing to develop their prototypes built during Phase 3 and will present to a panel of judges at this month's finals. The winning team will receive $5,000 in seed money to help launch their startup.
"We were thrilled to have had so many great applicants in our second Startup Challenge," said Idea Center Executive Director Leandro Finol. "Our students are full of great ideas, and this program gives the most promising ventures the resources they need to develop from ideas on paper to actual businesses that can turn a profit."
MDC students from all disciplines and campuses are encouraged to participate in the annual competition, regardless of prior business knowledge or experience. Nearly 100 teams applied this fall, and about half were selected to move on to the second round of the competition. Throughout each phase of the challenge, teams have benefited from support and mentoring to help them as they refine and strengthen their startup ideas.
— AMS
More Features Articles