---
Powerful Partnerships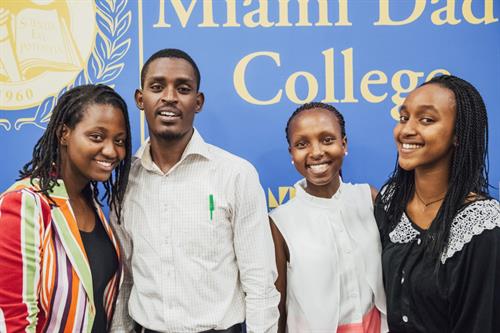 Speaking Up for a Better World
The English and Communication Department at Kendall Campus recently hosted a two-day event with the iDebate team from Rwanda. This nongovernmental organization is using debate to change the lives of young Rwandans and East Africans by teaching them how to think critically, solve problems creatively and change their world for the better.
The iDebate group visited Miami this fall as part of their "Voices From the Post-Genocide Generation" tour, during which they discussed a variety of topics including identity, violence and speaking up to share their ideas.
Practicing alongside Kendall Campus students, the iDebate team analyzed how forgiveness can be of more value than justice. They then participated in a group lecture about the history of Rwanda, read two short stories from a book on the emotional consequences of the genocide, and showed a short film on the importance of debate and healing.
"Listening to the iDebate Rwanda students was a great privilege," said MDC Professor Dr. William Murphy, advisor to MDC's Forensics Society. "The Rwandans taught our students that their voices matter, and academic debate is about facilitating dialogue capable of discovering truths about the world around them and effecting meaningful change."
More Powerful Partnerships Articles