---
Powerful Partnerships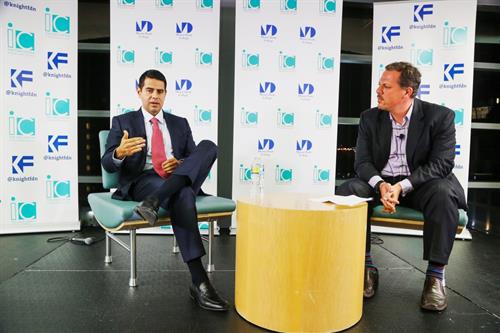 NBCUniversal Chairman Brings Media Insights to MDC
Continuing to inspire students with lessons from top industry leaders, The Idea Center hosted César Conde, chair of NBCUniversal International Group and NBC Universal Telemundo Enterprises. The free event, open to the public, was offered as part of The Idea Center's MarketHack digital marketing program.
Conde spoke on the subject of "Broadcast in the Mobile Age" in conversation with former Miami Herald reporter and WLRN news editor Dan Grech, who now serves as MarketHack's lead instructor.
The 16-week MarketHack program provides comprehensive training in digital marketing for students and professionals in an effort to help create a talent pipeline for companies throughout the South Florida region.
The event also was live streamed to students enrolled in MDC's School of Entertainment & Design Technology at North Campus.
— AMS
More Powerful Partnerships Articles