---
Powerful Partnerships
Concrete Career Solutions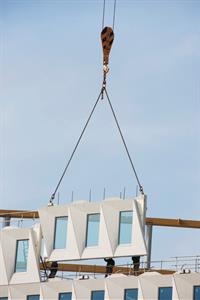 MDC's TRAMCON program offers seven nationally recognized certificates in which students learn to work with prefabricated building materials.
MDC has established a dynamic new program to provide timely access to jobs in the rapidly growing manufactured construction industry through a $9.9 million grant from the U.S. Department of Labor.
Miami Dade College's TRAMCON (Training for Manufactured Construction) program offers tuition-free courses where students can obtain up to seven nationally recognized trade certificates, putting them on a pathway to stable, long-term employment. The program also provides on-the-job training and job placement assistance, and credits can be used toward an associate degree. The program launched at North Campus this fall and will expand to additional campuses in 2016.
Manufactured construction is a flourishing industry in South Florida. Building sections are fabricated at manufacturing facilities, then moved and assembled on site. The industry uses processes that are versatile, high-tech and efficient while providing safer working conditions and long-term career opportunities for employees.
Funding for this program – known as the Trade Adjustment Assistance Community College and Career Training (TAACCCT) Department of Labor grant – is shared among MDC and three colleges in the state that comprise the TRAMCON Consortium, which was created to fill the growing demand in manufactured construction.
"This kind of training is new, innovative, and nobody else offers it," said Teresa González, Grant Consortium director at MDC. "We're working with national trade industries in both manufacturing and construction and the University of Florida to build this curriculum. Our grant is the pilot for the whole nation. If it's successful – which we already are seeing proof that it is – we have colleges and universities outside of Florida that are interested in offering the program based on our model."
— AMS
More Powerful Partnerships Articles