---
Academics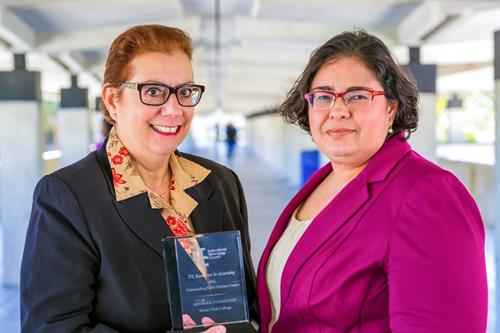 Virtual Class Wins National Award
As distance learning becomes an increasingly important part of the fabric of the U.S. higher educational system, MDC faculty continue to play a role in developing models for online courses that enhance the learning experience for students.
At this year's recent eLearning Conference of the Instructional Technology Council, Miami Dade College topped hundreds of entries nationwide to win the award for Outstanding Fully Online Course, which was created by MDC Virtual College Senior Instructional Designer Melisa Ríos and Dr. Sheryl Hartman, a psychology professor at North Campus. This is the third consecutive year in which MDC has been recognized with a distance learning award.
Their online Foundations of Abnormal Psychology course showcases the collaboration between Hartman, the subject matter expert who customized curriculum, and Ríos, who implemented the development of the online version of the course and the interfaces.
"Melisa's work was critical in maximizing the interactivity and accessibility of the course," Hartman said.
Ríos added, "The rationale is that through the use of research and discussions in the course, students go beyond the topic to obtain lifelong skills that allow them to keep learning beyond the classroom."
The course, a case study in excellence for online instruction, features interactive learning, critical thinking elements, clear goals, student learning outcomes, multimedia components and regular student feedback.
"It is vital that students enjoy learning the information, use a lot of different tools to consolidate their increasing knowledge, critically analyze primary modes of treating abnormal behavior, and examine the balance between the rights of individuals and the protection of society in terms of abnormal behaviors," Hartman explained. "The goal is to strengthen student ownership of the academic material."
In addition, the availability of the professor plays a critical part in enhancing results. "The students can read between the lines of the course, know that I am excited about the subject matter and also see I am 100 percent available for them," Hartman said. "They recognize from my communications with them that I want them to succeed."
More Academics Articles