---
Features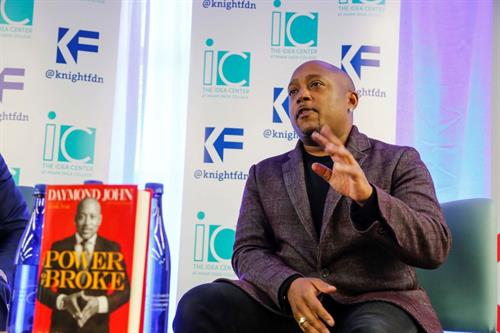 A Shark in Their Midst
One of the country's most dynamic entrepreneurs gave MDC students an inside look at how he built and sustained his empire.
Daymond John, CEO and co-founder of FUBU and judge on ABC's Shark Tank, inspired the next generation of entrepreneurs with his recent presentation at the College's Idea Center and helped kick off the 2016 American Entrepreneur Award competition.
John, who has grown his FUBU clothing company into a $6 billion brand, answered questions in front of an audience of hundreds about what motivated him to start his own company, his early struggles and how he overcame them, his advice for other aspiring entrepreneurs, and what it's like working on Shark Tankand helping other would-be business owners achieve their dreams.
"You need the will to win," said Daymond, who recently published his latest New York Times best-selling book, The Power of Broke. "Understand you will fail more than you succeed."
Seeding New Ventures
The presentation by John, who was named a Presidential Ambassador for Global Entrepreeurship last year by the White House, was an exciting end to an afternoon designed to encourage entrepreneurial thinking among MDC students and the South Florida community.
As part of the event, the Libra Group, an international business group with 30 subsidiaries on six continents, announced the launch of its inaugural American Entrepreneurship Award. This business plan competition will award $50,000 in startup funding for Miami-Dade County's most promising early-stage business. In addition to the cash prize, the winner will receive branding, marketing and legal services, as well as expert mentoring from the Libra Group or a partner institution.
A special $2,500 award will be designated for a winning MDC student.
Entrepreneurial Spirit Grows
"It's a way for us to ensure that entrepreneurism is supported and encouraged among students," said Xavier Stewart, social responsibility program manager at the Libra Group.
For more information on the award and how to apply, visit americanaward.com.
— AMS
More Features Articles