---
Making Their Mark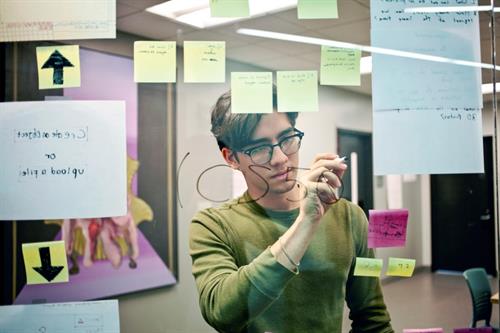 From MDC to Harvard in Just One Course
It's been a little over a year since MDC student Arturo J. Gómez Real heard of CS50x Miami, but in that short time, he advanced so quickly in both his computer programming and leadership skills that Harvard University offered him a job. Upon completion of his MDC associate degree, he'll move to Cambridge, Massachusetts, to work as a preceptor in computer science at Harvard.
Born in Venezuela, Gómez Real immigrated to the U.S. in 2002. While still in high school, he registered at MDC and planned to study neuroscience, but later switched to political science. His dream was to attend Harvard one day, though he didn't know how he would make that happen, other than to prepare himself academically for the future to which he aspired.
Along the way, he found out about CS50x Miami, a version of Harvard's Introduction to Computer Science offered at The Idea Center at MDC. The course offers specialized tracks and uses an innovative approach to teaching that includes problem sets inspired by the real-world domains of biology, cryptography, finance, forensics and gaming.
Before CS50x Miami, Gómez Real readily admits that creating a decent PowerPoint presentation was the pinnacle of his computer tech skills. Fortunately for him, the cutting-edge course is designed to teach students with or without prior programming experience.
"It was 20 weeks of grueling computer science," he said. "Very abstract thinking. More than anything else, that course taught me how to think like a programmer."
After completing the course, Gómez Real had the opportunity to travel to Harvard for a CS50x Hackathon event. Thanks to his MDC experience at The Idea Center, he soon found himself helping others in a support role – giving him the opportunity to work alongside CS50 staff from Harvard and Yale.
"Shortly after I returned from the Hackathon at Cambridge, I got a phone call from David Malan, who is the lead instructor of the CS50x course at Harvard," said Gómez Real. "He offered me a position at the university, starting in June!
"CS50x Miami opened up a world of opportunities for me," he said. "Now joining the Harvard staff will bring that MDC experience full circle. Not only will I be working at my dream school, I also hope to be able to continue my future studies there."
More Making Their Mark Articles