---
Making Their Mark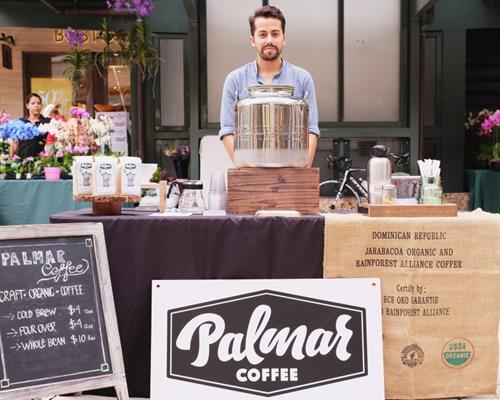 The Perfect Blend
Luis Méndez wanted to be in the cultural center of Miami – the very heart of the city – and that's why he chose MDC's Wolfson Campus for college.
In May of 2015, Méndez, who came to the U.S. from the Dominican Republic at age 19, completed an MDC Bachelor of Science in Supervision and Management. Just two months before graduating, he launched his company, Palmar Coffee. Though it was a big undertaking, he said MDC Professor Remberto Espinosa supported him from the start.
"He right away understood what I was doing, and he pushed me to it," said Méndez, 27. "He said: 'Coffee will always sell if you do it well.'
"His classes were tailored to the Miami community, which is another reason why he was my favorite professor."
Méndez's company roasts and sources only organic coffee from around the world. Méndez has participated in events such as MDC's world-renowned Miami International Film Festival, to get the word out about his specialty craft coffee, which is unique in that all his brews are sourced to the farmers who grow them.
"Coffee farmers are underappreciated in the whole process. They are the ones putting in the sweat," said Méndez, who plans to import coffee beans from Kenya or Ethiopia next.
"As we grow, we want to create a program, where we give back to them."
As for attending MDC, Méndez said it was one of the best decisions he's ever made.
"I had a feeling like I belonged," he said. "I felt like I could do my best at MDC."
— WV
More Making Their Mark Articles