---
Making Their Mark
Ensuring a Secure Community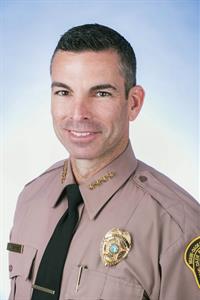 MDC alumnus Juan Pérez is the new director of the Miami-Dade Police Department.
After the recent retirement of J.D. Patterson, Juan Pérez has become the latest in a long line of distinguished MDC graduates to rise to the role of director of the Miami-Dade Police Department. Other Miami Dade College alumni who've led the MDPD include James Loftus, Robert Parker and Carlos Alvarez.
Patterson, a police officer for more than three decades, set a high bar for leadership, Pérez said.
"He's a man of great character and also a man of faith," Pérez said of Patterson, who was the director of the MDPD for the past three years. "He was a good mentor and a testament to all the great people who have come out of MDC."
Pérez said attending MDC's Kendall Campus was life-altering because it was there that he met his wife, Christina, and completed an associate degree in criminal justice, laying the foundation for his outstanding career as a police officer.
"The transition from high school to college isn't easy," he said. "My professors at Miami Dade College taught me the ropes of what being a college student is all about."
As proud as he is of his new appointment, Pérez said reaching the top wasn't his mission.
"I never expected to be the director. My goal was to make a difference in someone's life, be it a citizen in the community or a fellow employee. That's why I became a police officer."
— WV
More Making Their Mark Articles