---
Powerful Partnerships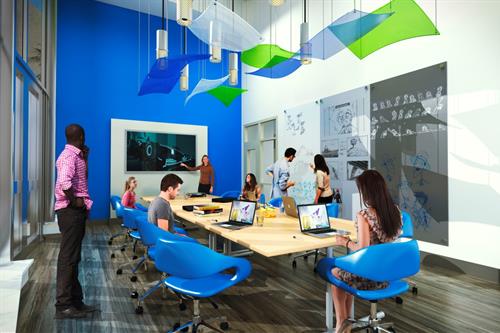 Teaming With Breakout for Millennial Magic
MDC recently partnered with Breakout, an organization that brings together inspiring millennials from around the country and connects them with innovation hubs that are positively impacting their local communities. At Wolfson Campus, Breakout facilitated an interactive session with students at MDC's Miami Animation & Gaming International Complex (MAGIC), where they worked collectively to create a short story and produce it digitally.
Breakout visited MAGIC as part of its second annual Miami Summit, and members brought more than 100 influencers from all industries and various U.S. locations for an immersive 48-hour program to fully explore Miami. At MAGIC, students used motion capture technology to act out their character roles, then recorded dialogue in the audio engineering room. They worked in teams to troubleshoot problems and find solutions together to complete their short digital movie.
Based in New York City, Breakout builds communities among entrepreneurs and business leaders through a series of local events and national weekend retreats in various U.S. cities. Through its Impact Eventing Model, Breakout takes members to the streets of a city to learn about its heart and soul and make a positive impact on businesses and communities by bringing great entrepreneurs together to share business best practices and life lessons. In addition, members assist each other through networking, know-how and capital.
More Powerful Partnerships Articles