---
Academics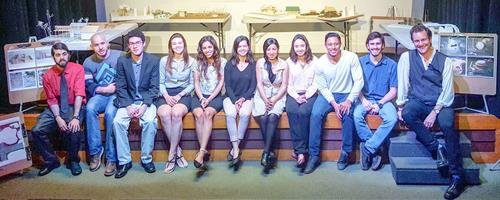 Constructing Change
In the competitive field of architecture, novices often toil in the shadows designing HVAC ducts and other commonplaces for years before having a chance to realize their vision on a project. Now, though, a group of first-year students studying with Architecture Professor Dr. Lyle D. Culver in MDC's School of Architecture & Interior Design at Kendall Campus are seizing the opportunity to see their ideas come to fruition in two different architectural projects in Miami.
The first project the students took on was a redesign of the threshold at the historic 444-acre Deering Estate on Biscayne Bay. After touring the grounds, the students returned to campus to develop ideas to take back to the estate.
"The presentations went really well, and the students had the chance to share their ideas directly with the executive director and other officials, which is a great experience for first-year students," Culver said.
The students' designs had to be environmentally low-impact and take into account the unique landscape and history of the estate.
"The MDC students opened our eyes to the realm of creative possibilities in addressing critical visitor services needs, by designing areas that foster social interaction and integrate both the natural and historical features present here," said Deering Estate Director Jennifer Tisthammer. "We experienced how engaging today's young professionals can be in our management decisions to improve public spaces."
In the second project, students are submitting proposals to the Miami-Dade Public Challenge, which seeks to enhance public spaces in Miami. Stuart Kennedy from the Miami Foundation and Marta Viciedo from Urban Impact Lab visited with the students to provide background on parks and public spaces. From there, the students submitted their ideas for curatorial and public review. The top projects will be funded and built as part of a $300,000 allocation.
More Academics Articles