---
Making Their Mark
Award Winner Picks Winning MDC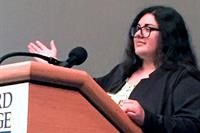 MDC student Kassandra Fernández recently presented a paper at the Life Sciences South Florida Conference.
It didn't take MDC graduate Kassandra Fernández long to figure it out. After graduating with honors in 2011 with an associate degree in mechanical engineering, she gave university life a try, but the academic and moral support she had received at her alma mater just wasn't there. So she packed up her books and headed back to MDC.
The move has paid off, with Fernández recently earning the 2016 Outstanding Undergraduate Oral Presentation Award in the Environmental and Chemical Sciences Division at the 80th annual Florida Academy of Sciences meeting at the University of South Florida.
"I'm so grateful," said the 23-year-old native of Miami Beach. Much of her thanks goes to the professors, staff and administrators at MDC. She has taken courses at Kendall and North campuses and is set to graduate next year with a Bachelor of Science in Biological Sciences, specializing in biotechnology.
After MDC, she plans to pursue a doctorate either in Florida or at Rice University, with its advanced program in nanotechnology. From there, she wants to do research at NASA, become a research professor or work as a field biologist for Miami-Dade County.
She said none of those options would have been possible without  outstanding MDC leaders, including her research mentor Dr. Servando Muñoz, STEM TRAC advisor Danay Montes de Oca and School of Science Dean Dr. Heather Belmont.
"Without Dr. Muñoz, I never would have discovered that my true passion is research. Without Danay's guidance, I would never have realized that there are so many opportunities for me. And without Dr. Belmont's support, I would never have received these opportunities to begin with."
— WV
More Making Their Mark Articles