---
Making Their Mark
From All-USA to Helping All Globablly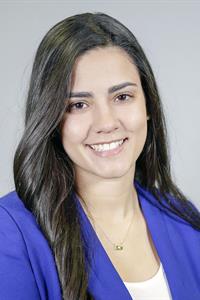 InterAmerican Campus Honors College student María Alejandra Ortiz was named a winner on the All-USA Community College Academic Team.
At the Chicago awards ceremony, María Alejandra
Ortiz was so excited to be named an All-USA Community
College Academic Team winner that she left behind the $5,000 scholarship check.
The 20-year-old native of Colombia who completed an MDC associate degree this spring was one of only 20 students nationwide – out of more than 1,900 applicants – to win the award. MDC also had 12 students from across its campuses who were named to the team. Ortiz's final win marks the second straight year that an MDC InterAmerican Campus student has walked away with the prize.
The scholarship check, mailed to her afterward, will be put to good use when she studies at one of her top picks, which include the University of Pennsylvania, the University of North Carolina at Chapel Hill and Tufts.
"Before attending MDC, going away for college was out of the question for me," said Oritz, who aims to be a pediatrician to help newborns worldwide. "But MDC prepared me to excel at the nation's top universities."
More Making Their Mark Articles