---
Powerful Partnerships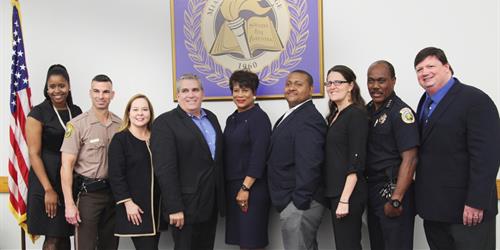 Working Toward Justice for All
Homestead, Kendall, North and Wolfson campuses recently hosted Where's the Justice forums addressing inequality and improving the criminal justice system. The forums were presented in collaboration with the National Association for the Advancement of Colored People (NAACP), the Spanish American League Against Discrimination (S.A.L.A.D) and the Miami-Dade Public Defender's Office.  
Attendees engaged in vital dialogue on raising community awareness, finding ways to improve outcomes and restoring society's faith in the justice system. Several important topics were addressed including the imposition of fines and fees that promote "cash register justice" and alternatives to unnecessary arrests and convictions for minor infractions.
Panelists included the Honorable Carlos J. Martínez, Miami-Dade County public defender; Michelle Ortiz, deputy director of Americans for Immigrant Justice; Juan J. Pérez, director of the Miami-Dade Police Department; Rodolfo Llanes, chief of the Miami Police Department; Al Rolle, chief of the Homestead Police Department; and representatives from the Miami-Dade State Attorney's Office, including Assistant State Attorney Jessica Sinkfield.
More Powerful Partnerships Articles