---
Powerful Partnerships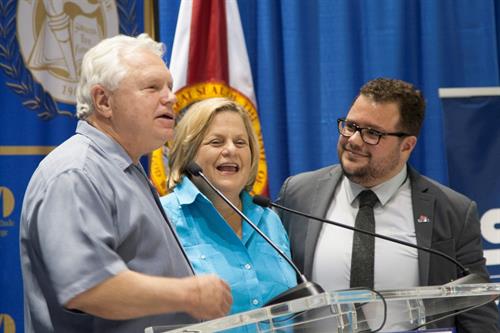 A Message of Acceptance
Miami Dade College recently partnered with SAVE, South Florida's foremost advocate for the local LGBTQ community, to host an event debuting a new public service announcement encouraging tolerance.
The ad's tagline "Family is Everything" features MDC alumna and U.S. Rep. Ileana Ros-Lehtinen; her husband, former U.S. Attorney Dexter Lehtinen; and their transgender son, Rodrigo Heng-Lehtinen.
SAVE Director Tony Lima led the event at Wolfson Campus, with Miami-Dade County Mayor Carlos A. Giménez in attendance as a show of support to the Lehtinen family.
MDC President Dr. Eduardo Padrón noted that MDC has a long record of inclusiveness and diversity. "We welcome everyone, with no exceptions," he said. "We not only welcome them, we nurture them and provide opportunities to succeed and move forward, and that's what many other organizations in this community and throughout this nation need to do if, in fact, this is going to be America for all."
— NN
More Powerful Partnerships Articles