---
Powerful Partnerships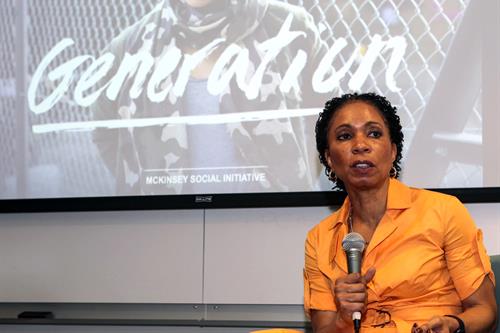 McKinsey Social Initiative Fosters Solutions
A dynamic force in global thinking, Dr. Helene D. Gayle enthralled audiences with her ideas to strengthen ties between the community and employers to create opportunities for South Florida graduates during her presentation as part of the Pioneers@MDC lecture series. Gayle, featured in Forbes as one of the top 100 most powerful women in the world, serves as global CEO of the McKinsey Social Initiative, a nonprofit devoted to addressing complex global and social challenges.
The organization's Generation initiative seeks to close the skills gap and improve the employment prospects for the most populous generation in history: Millennials. The program is determined to solve the problem of youth unemployment with a goal of connecting one million young people with skills and jobs across five countries over the next five years.
The Idea Center at MDC is an important partner in this initiative, hosting Generation boot camp training programs that bridge the gap by providing students the technical, behavioral and mindset skills to succeed in positions in IT and retail/hospitality industries.
The IT boot camp recently launched its first cohort of 25 students at The Idea Center and was met with great enthusiasm by the student community. The retail/hospitality program is currently running its third cohort and has already graduated 57 students with over 90 percent continued employment rates after three months on the job.
— AMS
More Powerful Partnerships Articles