---
Academics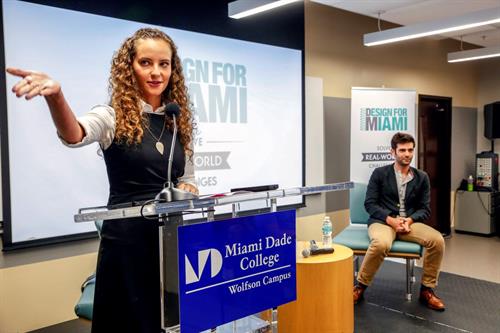 The Power of Thoughts
The Idea Center is helping people learn how to solve problems creatively – and make Miami a better place while doing it – with its new Design for Miami course in design thinking.
This creative problem-solving methodology focuses on using empathy and outside-the-box thinking to understand people and their needs. It's used by many of the world's innovation leaders, including Apple, AirBnb and Nike.
"This kind of thinking is a first step for any innovation journey for any entrepreneur," said Idea Center Executive Director Leandro Finol. "Design thinking gives you the tools to put yourself in the user's shoes, understand what are they trying to get done and then, based on those insights, decide the right product or service."
During the 12-week Design for Miami course, participants will work on real-world design projects geared toward improving the lives of Miamians living at or below the poverty line, with emphasis on education, transportation and health care projects. The Idea Center also is coordinating with Catalyst Miami to help serve their clients.
The Design for Miami program is based on Stanford University's cutting-edge Design for Extreme Affordability course, which has spawned successful social ventures that already are having meaningful impacts on people and communities around the world.
— AMS
More Academics Articles