---
Cultural Spotlight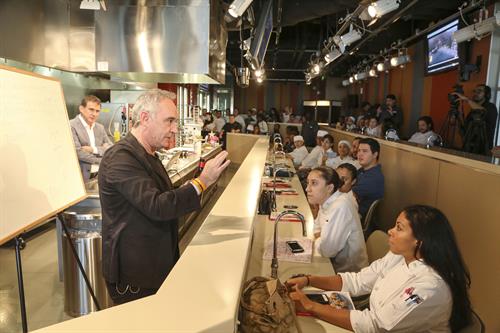 Top Chefs Convene at MCI
MDC's Miami Culinary Institute (MCI) will welcome back world-renowned Spanish Chef Ferran Adrià alongside an all-star lineup of international chefs when the Estrella Damm U.S. Gastronomy Congress convenes at MDC for the second year in a row in late September.
Adrià rose to fame as the head chef of ElBulli, a three-Michelin Star restaurant regularly rated among the world's best. His avant-garde, deconstructionist cuisine changed culinary history, and he is revered throughout the industry for his innovation and impact on his field. As part of the Gastronomy Congress, he will address "The Challenge of Contemporary Cuisine."
He will be joined at the event by a handful of other culinary all-stars from around the globe, including South Florida's own Michelle Bernstein, who will emcee the event. Other top chefs taking part are:
Jorge Muñoz, head chef of the Michelin-starred Pakta restaurant in Barcelona, which features Nikkei cuisine, a fusion of Japanese and Peruvian food
Aaron Mullis, head chef at Great Britain's The Hand and Flowers, the first pub to receive two Michelin stars
Nick Beardshaw, head chef at The Coach in Marlow, England, a new venture by top British chef Tom Kerridge

In addition to presentations and live demonstrations for hundreds of culinary enthusiasts and a who's who of South Florida chefs, Adrià  and his peers will spend an afternoon with students at MCI. Spanish beer brewery and event presenter Estrella Damm also plans to donate a $5,000 scholarship to MCI.
— AMS
More Cultural Spotlight Articles