---
Cultural Spotlight
Dancing Between Cultures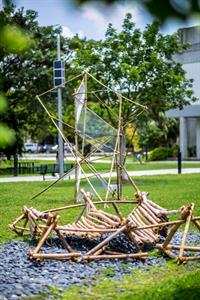 First-year students created sculptures from bamboo and ribbon as part of an experimental architecture project.
A group of first-year design students working with Dr. Lyle Culver of MDC's School of Architecture and Interior Design completed an experimental project that incorporated design, materials study, the environment and Chinese dance.
Noticing the removal of a patch of bamboo on campus, Culver, who several years ago had taken a group of students to Indonesia, recalled some of the remarkable, complex structures they saw on Bali, which were built exclusively from bamboo. Inspired by the felled bamboo, he tasked his students with creating a viable structure out of the waste. Since the student constructions were to be placed alongside the statue of Confucius that reposes outside the Confucius Institute at MDC, Culver had the students use Chinese ribbon dancing as a motif for their designs.
After attacking the harvested bamboo with machetes to clean and prepare it, the students, in teams of three, began designing their prototypes. Outside the lab, they researched ribbon dancing and learned about bamboo as a sustainable, renewable building material.
When they were ready to build in earnest, the Earth Ethics Institute at MDC, which promotes sustainability across the curriculum, chipped in with the tools necessary to construct the bamboo towers. Using power saws and roofing torches to manipulate the bamboo, the students employed pin joints, fish-mouth connections and other traditional joinery techniques to attach and brace the bamboo spars. The 20-foot structures they erected were integrated into the celebration of the anniversary of the Confucius Institute in September.
"Bamboo is almost a poetic plant in Chinese culture," said Dr. Xuejun "Jim" Yu, director of the MDC Confucius Institute and China Initiatives. "It is considered to be a symbol of traditional Chinese values and an example of the harmony between nature and human beings. Chinese dances are all associated with achieving contentment, elegance and happiness. By adopting the Chinese ribbon dance tradition in designing bamboo architecture at the plaza of the Confucius statue, our art students have created an excellent environment for our campus community to experience and appreciate the Chinese and Asian culture."
"This was a multidimensional project," said Culver. "The experience covered design, materials, the environment and the cultural heritage of both Indonesia and China, while giving students the opportunity to build their first real structures."
More Cultural Spotlight Articles