---
Cultural Spotlight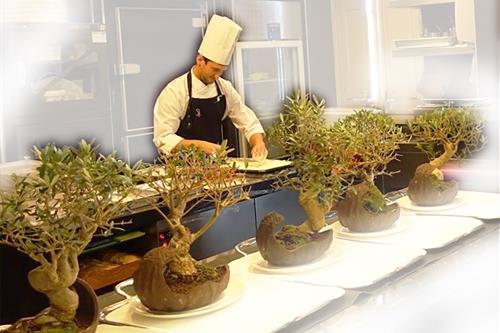 The World at His Cutting Board
When MDC Miami Culinary Institute student Marcelo Sardina landed an internship at one of the top-ranked restaurants in the world, he knew his life was about to change. And he was right.
Sardina spent an exciting four months earlier this year working alongside internationally renowned chefs at Spain's El Celler De Can Roca restaurant, which landed at No. 1 on Restaurant magazine's influential World's 50 Best Restaurants list last year.
Sardina spent the first half of his internship working directly with pastry chef Jordi Roca, one of the restaurant's co-owners who previously has been named the world's best pastry chef. Working as much as 85 hours a week, Sardina assisted with both lunch and dinner service and learned the art of plating.
He then worked with the production team learning how all the unique menu dishes were made, often using ingredients that most have never even heard of to help prepare exciting and inventive creations from the minds of the restaurant's acclaimed chefs. It was a real-world culinary education that most aspiring chefs can only dream of.
"I wouldn't have gotten these opportunities without going to Miami Culinary Institute," Sardina said. "This school has changed my life completely."
It has also continued to open doors to him. After completing his internship, Sardina was recently hired to work as chef de partie at Gaggan restaurant in Bangkok, Thailand – the No. 1 restaurant in Asia. Its acclaimed owner considers himself an investor in talent and is known to seek out young chefs with special potential. Sardina hopes to be the next rising star.
"I'm living my dream, and I can't wait to see what happens next," he said.
— AMS
More Cultural Spotlight Articles