---
Cultural Spotlight
A Flair for Interior Design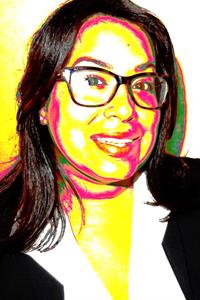 MDC student Ashley Aurigemma Fernández won the 2016 Wilson Art Essay Contest.
One minute before deadline, Ashley Aurigemma still had self doubts, but she boldly hit "Submit."
Less than three weeks later, the MDC interior design student was delightfully surprised to learn she had aced the prestigious 2016 Wilson Art Essay Contest.
"I couldn't believe I won the national competition," she said.
Aurigemma received the award and $1,000 from the International Interior Design Association during the National Exposition of Contract Furnishings (NeoCon), which drew more than 50,000 design professionals to Chicago in June.
Aurigemma said Professors María Zabala and Juan Carlos Martín nurtured her talent. Aurigemma served as president of MDC's Interior Design Club. Her second semester in the program, she landed an internship at MRA Design, working directly with the design director.
A 30-year-old native of New York, Aurigemma has always had a flair for design. Friends had repeatedly told her she should consider interior design as a career, but she decided to pursue nursing instead, only to eventually realize that was not her calling.
At the urging of her husband, Anthony, she enrolled in Miami Dade College's interior design program, where she is on track to complete an associate degree by the spring of 2017.
"As a kid, I was always creative," Aurigemma said. "But it was only a couple of years ago when I thought of this as a possible career. Now I know it's my future."
— WV
More Cultural Spotlight Articles