---
Features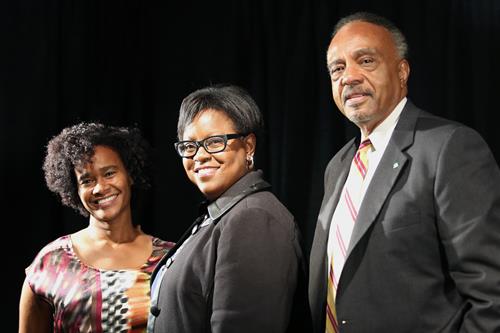 Engaging the Business Community
Author, consultant, entrepreneur, visionary. These are just a few of the words often used to describe Clifton Taulbert and his versatile career. Beginning in a household of modest means in Oklahoma, Taulbert has started businesses, given keynote speeches and written a dozen books. His 1992 work, The Last Train North, was nominated for a Pulitzer Prize, and Eight Habits of the Heart won the praise of former Supreme Court Justice Sandra Day O'Connor, who invited him to speak at the Library of Congress.
Taulbert recently discussed ways to promote personal and professional success on MDC-TV's Conversations With… series by H. Leigh Toney, executive director of MDC's Carrie P. Meek Entrepreneurial Education Center.
"We are all grounded by the world that surrounds us. Sometimes that grounding is not good, and sometimes it is absolutely what you need," Taulbert said. "I was very fortunate in that, despite the fact that some of the circumstances of growing up in the Mississippi River Delta were negative, there was an internal circle of friends and family, whom I call the 'Porch People,' who made all the difference. That is where the high expectations and dependability lived. It was encountering those people and those acts of the heart that taught me I could really do something."
Taulbert is currently founder and president of the Building Community Institute, which seeks to develop human capital and organizational effectiveness through interactive workshops and keynote conversations. He is also president and CEO of the African Bean Company and the ROOTS JAVA project, which is bringing high quality coffee grown by Rwandan farmers to markets in the United States.
In addition to dedication, Taulbert cited mindset as one of the most critical factors in success. "Once your mindset changes, and you realize you can do something, it makes you see every day as a day full of opportunities."
Reflecting on the MDC-TV series, Toney said, "Conversations With… is a lasting record of engagement with entrepreneurs that serves as a valuable resource for professors, students and the community. We form long-term relationships with our guests. For instance, Taulbert will return as the featured speaker at the African American Read-In in February."
See the show at tinyurl.com/TaulbertMDC and the series at tinyurl.com/MDC-CEOs.
More Features Articles