---
Features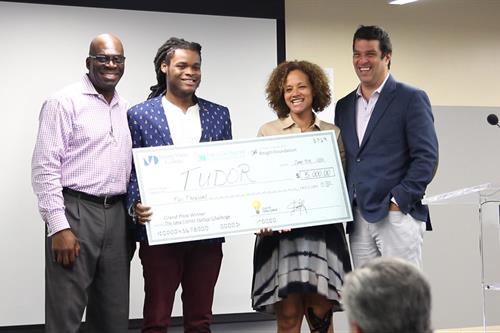 Startup Challenge Names Winners
Another wave of innovative business ideas from MDC students is ready to take flight in South Florida with the conclusion of The Idea Center's second annual Startup Challenge.
Earlier this summer, the business model competition – open to students of any discipline – named its first-, second- and third-place winners, who are now ready to take their ideas from business plans and prototypes to successful real-world ventures.
Taking top honors was Melvin Hope for his web-based tutoring application, Tudor, which allows students to find tutors in the area to provide online or face-to-face tutoring and also rate and provide feedback on the service they received. The $5,000 first-place prize money will help him launch the mobile application later this month.
Wolfson Campus student Jaysen Lima was awarded second place for an application called DLAlertPro that alerts users when their driver's license has been suspended. He has established partnerships with Ticket Clinic, law firms and auto insurance companies, and already has 4,000 subscribers with plans to scale nationally.
Third place went to Kendall Campus student Andres Solivan, founder of The Content Gallery, a social media management/video production agency. Solivan has already acquired several prominent clients, including Miami's Delano Hotel, Vice, John Jamerson & Son and Forbes magazine. His portion of the prize money will allow him to acquire additional equipment and expand his business to an even wider audience.
Nearly 100 teams applied for this year's Startup Challenge. Through each phase of the challenge, they benefitted from support and mentoring to help them refine and strengthen their startup ideas. The winners, who were judged by a panel of business leaders and members of The Idea Center's advisory board, will continue to receive expert mentoring and support as they work to grow their businesses and generate economic growth in South Florida.
"The Startup Challenge is now becoming part of the DNA of MDC," said Idea Center Executive Director Leandro Finol. "We thank the members of our advisory board and the startup community who lent their time and expertise in supporting our students' innovations through mentorship. We expect the next Challenge to grow to 150 teams."
The third iteration of the Startup Challenge will kick off later this fall. For more information, visit theideacenter.co/startupchallenge.
— AMS
More Features Articles