---
Making Their Mark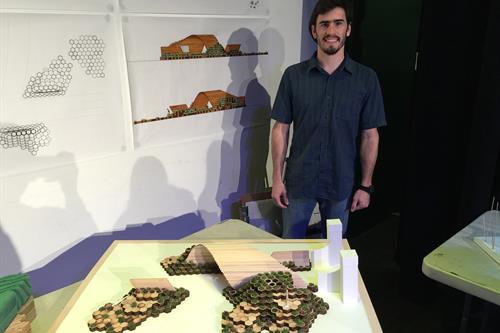 A Winning Portfolio
Like a lot of students at MDC, Roberto Martínez Valdés Daussá, 27, had acquired significant life experience before he arrived here. In his native Caracas, Venezuela, he had earned bachelor's degrees in mechanical engineering and production engineering. He then began working on a project under the award-winning architects James and Frank Alcock, who inspired him to switch course from engineering to designing structures.
"Jimmy and his nephew Frank included me in a lot of the design aspects of the project, and it galvanized my ambition to become an architect," Martínez said.
Thanks to a powerful year at MDC, he is now well on his way to success in his new career path. After ringing up a 4.0, Martínez was admitted into eight of the nine master's programs in architecture he applied to, including Parson's School of Design in New York City and the University of Southern California. He chose the University of Texas at Austin's School of Architecture because it is a top 10 program and keeps him a bit closer to his family in Miami.
At MDC, Martínez studied with Dr. Lyle Culver of MDC's School of Architecture & Interior Design at Kendall Campus and Professor José Vázquez at North Campus.
"Prof. Culver was very attentive and excellent at getting us into real world situations, where we could test our designs in the way they will be tested with actual clients," Martínez said. "And Prof. Vázquez instilled a love of history in me that I never knew I had, so much so that I've applied to be a history teaching assistant while I am doing my architecture graduate work at UT."
Martínez's course-packed year at MDC enabled him to compile the impressive grad school applications that wowed selection committees. For the vision to stick with all the work, thanks also go to Professor Rafael Concepción, who "put a great deal of effort into assuring that his students really benefit from what otherwise might have seemed like extensive class material," Martínez said.
"At least six of the projects in the portfolios I submitted came from my MDC classes," he said. "And the committee members always complimented the quality of the work."
One such project was submitting ideas for a redesign of the threshold at the historic Deering Estate. "We visited the site, met with the director and other decision makers, and presented our projects," Martinez said. "They were excited about our work and grabbed on to a lot of the ideas we presented."
Regarding the future, Martínez already has solid ideas about the direction he would like to pursue.
"Buildings account for 50 percent of all carbon emissions worldwide," Martínez said. "As part of the international Architecture 2030 Challenge established in 2002 by architect Edward Mazria, I want to help meet the goal of zero-emission buildings by 2030."
Martínez also is inspired by the needs of his home city and an acute sense of social awareness.
"There are many poor areas in Caracas and a shortage of reliable housing," he said. "To address that, I want to create architecturally thoughtful, socially responsible housing that is affordable for those who need it."
More Making Their Mark Articles