---
Making Their Mark
Reaching New Heights in STEM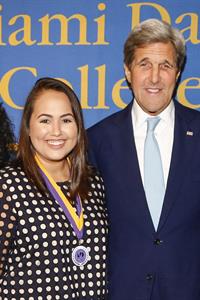 Valentina d'Empaire gave a powerful speech at the Honors College Gratitude Ceremony in the spring, at which U.S. Secretary of State John Kerry was the keynote speaker.
For civil engineering grad Valentina d'Empaire, one subject that is a bane for many came easy. "I have always had a passion for mathematics. I love architecture and design, but engineering allows me to put math and building together."
An Honors College student at InterAmerican Campus, d'Empaire completed an associate degree with an impressive 3.98 GPA, no small part of the reason that she won a prestigious Jack Kent Cooke scholarship, which provides up to $40,000 for tuition, fees, living expenses and books toward the completion of a bachelor's degree at a transfer institution. Also a recipient of Coca-Cola Leaders of Promise and Bright Futures scholarships, she is using these awards to now study this fall at Johns Hopkins.
D'Empaire has come a long way in the five short years she has been in the U.S. The recent arrival from Venezuela was active in public service and student activities during her MDC tenure. She served as treasurer of Phi Theta Kappa and president of Engineers for a Sustainable World, where she coordinated that group's participation in the Light Up Haiti project, which provides portable, solar-powered lighting for Haitians lacking access to reliable electricity.
"The two-year experience was very positive," d'Empaire said as she reflected on her time at MDC. "It makes for a smoother transition from high school, and I feel I grew more and am better prepared for what is to come."
She also appreciates the mentoring she received from professors at MDC.
"Dr. Michael Lenaghan was my leadership professor, and he always pushed me to reach for my goals even when I wasn't sure I could achieve them."
Grateful for the opportunities she has had at MDC, she gave a powerful speech at the Honors College Gratitude Ceremony in the spring, at which U.S. Secretary of State John Kerry was the keynote speaker.
"I also really want to thank the campus community for the very special environment that we created together," she said. "The authentic relationships that developed over the last two years are also the glue that will keep us connected. The different backgrounds, interests and personalities added to the richness of our daily interactions both inside and outside of class."
Now ready to take on her next academic challenges at Johns Hopkins, d'Empaire knows that she will one day be working in jobs formerly dominated by men. As women increasingly enter and excel in the STEM fields of science, technology, engineering and math, d'Empaire observed that women often outnumbered the men in her upper-level mathematics courses. "It is something that I think is changing at a rapid rate, and we will see more and more women reaching the heights in STEM majors and in STEM professions."
D'Empaire will no doubt be a part of the wave. She is intent on combining her engineering and environmental interests to address energy and water resource problems, and she hopes to earn an MBA as well.
"I think it is essential today to have business acumen, so you can put your ideas into practice."
More Making Their Mark Articles