---
Making Their Mark
¡Golazo!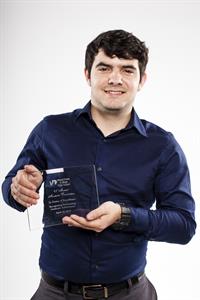 MDC student Juan Albrecht displays an award from North Campus for his academic excellence.
Juan Albrecht has a winning attitude both on and off the field. A top athlete, he was chosen for Cuba's national under-17 soccer team, then two years ago named MVP for the SSM Premier Soccer League here in the U.S. A winning scholar as well, he earned a full scholarship to Cornell, where he's now studying computer engineering and applied mathematics.
"Intelligence is the ability to adapt to change," said the MDC grad, quoting his hero – physicist and cosmologist Stephen Hawking.
Albrecht knows a lot about change. He quickly adapted to life in the U.S. after moving here just three years ago from Matanzas, Cuba. In that short time, he mastered English, excelled in his MDC's Honors College classes, took on leading roles in student organizations and now has his mind set on completing a Ph.D.
"I want to use my software engineering skills to build a more efficient environment for everyone here on Earth," Albrecht said.
He already has put his talent for analyzing data to good use during summer internships at Nova Southeastern University, where he helped filter a large database used for virtual screening to find the best drugs to combat neurological diseases like Alzheimer's and Parkinson's.
While taking on such important research, he also took the time to help others at MDC by tutoring in math, chemistry, calculus, informatics and programming, racking up enough hours to earn a Presidential Volunteer Service Award. In addition, he reached out to the local community by arranging food drives and staffing the Miami Walk to End Alzheimer's as part of his work for MDC's Phi Theta Kappa honor society.
This dedication to research and helping others all led to the avid soccer player's biggest "Golazo!" of all – a Jack Kent Cooke Scholarship that now is providing up to $40,000 a year for him to complete his degree at Cornell.
Beyond adapting to change, Albrecht has made a beautiful game of lobbing whatever challenge comes his way right into the goal.
— BK
More Making Their Mark Articles