---
Making Their Mark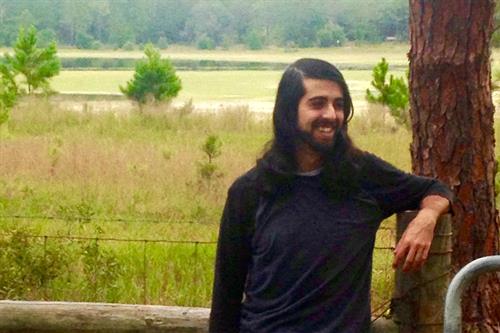 Jazz Under an Overtown Overpass
An MDC architecture student has made a splash with his first design, being selected as a finalist for The Miami Foundation's Public Space Challenge.
Adriel Jiménez's musically themed design for an amphitheater situated beneath an interstate highway overpass was one of only 55 projects chosen for funding consideration by the Public Space Challenge. Winners will receive financing for their designs from a pool of $305,000 dedicated by The Miami Foundation and its partners. Last year's projects were awarded grants ranging from $4,000 to $25,000.
The contest, which is open to all residents of Miami-Dade County, is designed to improve area parks and gathering places by crowdsourcing the collective wisdom of the community to find innovative ways to enliven public spaces.
For Jiménez, who loves music, and especially jazz, his vision for a Melody Park Amphitheater provides a chance to reestablish a social nexus for gathering under the very shadow of the infrastructure project that robbed the area of its vitality. The predominantly African-American community was displaced when road construction eliminated what had been a thriving section of Overtown.
"I was inspired by the music and community that was here," said Jiménez. "The construction of I-95 wiped out the neighborhood."
Designed in the shape of a saxophone, the amphitheater would be built from recycled tires and pounded earth reinforced with rebar. Bands would have a venue to play for local audiences, and area residents could relax, listen to music and play checkers or dominoes at the tables that would be part of the park.
Jiménez created the design as part of a course with Dr. Lyle Culver, an award-winning professor in MDC's School of Architecture & Interior Design at Kendall Campus.
"It's a simple but effective layout, and very well done for a first-year design student," Culver said. "The materials aspect of the project is important as well. The design is environmentally sound and reflects new ideas about sustainable construction that you see in product lifecycle management."
The winners of the challenge will be announced this fall, but so far, Jiménez is looking pretty good. "He's got the second-most likes of any of the finalists," Culver reported, "four times as many as the submission from the University of Miami School of Architecture."
More Making Their Mark Articles