---
Making Their Mark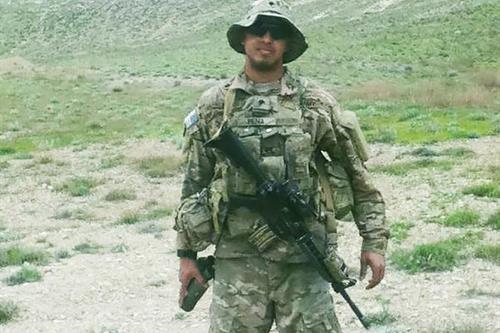 Asking All the Right Questions
José Peña, who has already served two tours of duty for the U.S. Army as a front-line soldier in Afghanistan, had questions when he enrolled at Miami Dade College.
Lots of questions.
"The first question I asked was, 'Can I ask questions during class?'" said Peña, a 24-year-old native of Miami who is of Puerto Rican descent. "Some college students are scared to ask questions. But my professors understood I was ex-military, and therefore was encouraged to ask lots of questions."
Having been trained in the Army as an Emergency Medical Technician, Peña knows that being inquisitive is the key to mastering any subject, be it how to save a friend's life, excel in college or learn a new language.
This willingness to take new challenges led him to winning a Benjamin A. Gilman Scholarship Program award of $5,000, which will allow him to travel to Tokyo this fall for an intensive Japanese Language Study Abroad course.
The Gilman award aims to diversify the kinds of students who study and intern abroad. Peña was the only MDC student to receive the award for the fall 2016 semester, but he is the fifth from the College to be so honored within the past year.
Peña, who is pursuing an associate with a focus in mechanical engineering at Wolfson Campus, is set to graduate in 2017. He then plans to attend the University of Central Florida to major in aerospace engineering. His ultimate goal is to work for NASA, designing rocket engines.
That's where knowledge of Japanese will come in handy as Peña can see himself at an international space center. He is already fluent in English and Spanish, and he also speaks some Russian.
Peña, who spent four years, eight months in the Army, signed up to serve immediately following his graduation from North Miami High School. He was in the 82nd Infantry Airborne Division, combat arms. While there, he saw some of his friends die by sniper fire and others due to explosions. Some of those soldiers had expressed the desire to attend college upon their return to the U.S.
Fortunate to be alive, Peña is now living fulfilling their shared goal for higher education at MDC.
"The military helped me grow as a person," Peña said. "It molded me into a disciplined person who sets goals and is focused on a straight path. In the military, you cannot turn back.
"MDC has molded me in terms of my education. You can say that coming here was an educational boot camp because it has prepared me for the next steps."
— WV
More Making Their Mark Articles