---
Powerful Partnerships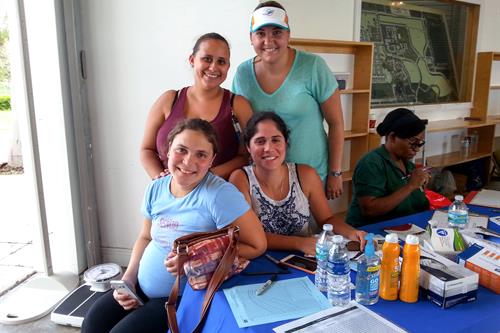 Lending a Helping Hand
MDC's Medical Campus recently hosted their annual Verde Kids Summer and Back to School Celebration. This year's service-learning project led by faculty and students of MDC's Benjamín León School of Nursing provided 300 homeless children living in supportive housing at Verde Gardens with free school supplies, shoes, backpacks and other necessities.
"We are thrilled and privileged to provide nursing services and community programs to the residents of Verde Gardens," said Nursing Professor Ann L. Graziotti.
Verde Gardens is a supportive housing community in Homestead that provides homeless families assistance with their disabilities. The community has 528 residents in 145 single family homes, so the free services provided by the MDC program offer crucial access to primary care for approximately 350 families.
In addition to the school supplies, the annual MDC event gives children and mothers free health screenings while teaching lessons in preventive health care. Throughout the year, Miami Dade College continues its service through the Benjamín León School of Nursing Verde Gardens Clinic, an RN-BSN student-led free clinic that provides nursing services.
The clinic is open Monday through Friday under the supervision of two faculty holding ARNP licenses. Students and faculty provide home visits to those unable to attend the clinic. The students also offer education and tutoring support in an after-school program and summer camp.
Other Verde Gardens projects that have been created and led by MDC students include a teen program and empowerment groups for girls and women. All the MDC students who participate in the program already are registered nurses, so the value of these hours of health care is more than $900,000 a year.
More Powerful Partnerships Articles