---
Powerful Partnerships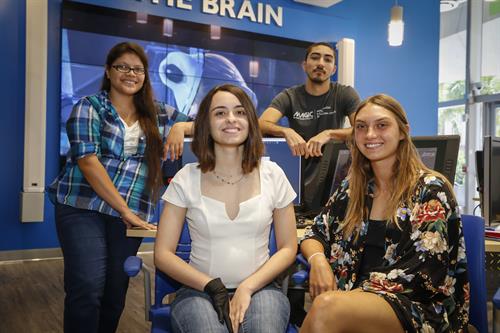 A Magical Opportunity
The opportunity of a lifetime has become a reality for four exceptional students at MDC's Miami Animation and Gaming International Complex (MAGIC). Nickelodeon and 20th Century Fox Animation have chosen the animations of Laquisha Campos, Jonathan Fernández, Kristen Molina and Sofia Elena Raffo as the focus of the MAGIC mentorship program, a benefit for all MAGIC students who will help with the development of these winning animations. With guidance from the major studios, these students' creations have the potential to become viable animated series. Get to know these MAGIC makers and their great work.
Sofia Elena Raffo: Wowing the Pros
As a first-year MAGIC student, Sofia Elena Raffo had no expectation that within only a matter of months she would be pitching animations to VIPs from one of the largest mass media companies in the world.
And she did so with great results at MAGIC Pitch Day, when she presented her lovable characters and attractive storyboard to executives from Viacom, Nickelodeon's parent company. They were so impressed with Raffo's work that she was selected as one of two students to receive mentorship from the cartoon giant toward the production of her animated series.
"MAGIC is one of the best things that has ever happened to me, opening a bunch of doors toward animation," said Raffo. "When I started at MDC, I never imagined having the opportunity to work for Nickelodeon."
Raffo looks forward to developing her animation skills further in order to fulfill her long-term goal of becoming a TV director for a major animation studio.
Laquisha Campos: Rich in Character(s)
Combining imaginative storytelling with designs that contain both a hint of vintage and a dash of 305 grit, the animations of MDC student Laquisha Campos captured the attention of Nickelodeon executives at MAGIC Pitch Day, leading to her being chosen for a mentorship with the leading animation studio.
A talented painter enamored with concept art, Campos melds her classic training with newly acquired animation skills learned at MAGIC to create a unique look. "I found it very easy for my strong traditional skills to transfer over to digital art," said Campos.
Her punchy characters break the mold. "They are all influenced by Miami characters and the setting is a Florida-like environment.
"MAGIC has become a family. We all come together and everyone is here to support each other," said Campos. "We know that we can go far and that our ideas are valid." Campos' dream is to work in visual development for Pixar or Dreamworks and become a well-known concept artist.
Jonathan Fernández: Aiming for the Top
Otherworldly characters mingle with terrestrial icons in the animation by MDC student Jonathan Fernández that piqued the interest of 20th Century Fox Animation and got him a mentorship with the renowned studio.
"MAGIC has really opened a lot of doors. I just feel like I'm actually doing something that I want to do," said Fernández. "Getting a mentorship with Fox Animation is probably the best opportunity I've ever had."
Geared toward millennials, Fernández's animated parody of current events has a humorously apocalyptic bent. "Shows I watched a lot as a kid rubbed off on me – Pinky and the Brain, Invader Zim, South Park, to name a few," he said. "My goal is to someday get my animated series on [Cartoon Network's] Adult Swim."
Another passion of his is game art, a track also offered at MAGIC. "I still want to work on game art and focus on creative work," said Fernández. "But animation has been a lot of fun."
Kristen Molina: A High-Caliber Artist
A starry-eyed robot is at the heart of a storyboard that got MDC student Kristen Molina noticed by 20th Century Fox Animation.
"I love robots," said Molina, who studied painting before becoming immersed in animation at MAGIC. "Thomas wants to clean up pollution so that he can show everyone the beautiful night sky and its secrets."
Molina looks forward to the hands-on mentorship of Fox Animation staff. Her long-term goal is to become a professional animator and, eventually, direct an animated series for a major studio. With her superb drawing skills and determination to succeed, Molina is well poised to prove herself in the big leagues.
"My experience studying at MAGIC has been more than I ever expected," said Molina. "It has helped me gain experience in the real world of animation and an understanding of what I have to do to excel in that world."
— MR
More Powerful Partnerships Articles