---
Academics
Homework Pays Offs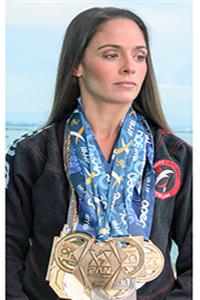 MDC Professor Olivia Shand is one of the world's top jiu-jitsu Blue Belt Masters.
Math professor Olivia Shand, the world's No. 31-ranked female Blue Belt Master I fighter in Brazilian jiu-jitsu, sees a correlation between her academic success and her athletic prowess.  "You don't need special talent to get to an elite level at either endeavor – you just have to work very hard," she said. "I'm not a math genius. The only difference between me and others is I put in an unbelievable amount of homework."
Shand, a 35-year-old American of Cuban and Italian ancestry, has overcome significant obstacles in her life.
Raised by her father, Thomas, she was only 22 when he died of liver cancer. Shand wasn't a serious student until her mid-20s. Before that, she was a surfer, moving to Costa Rica and then San Diego in search of the next wave. "Once I hit my mid-20s, I realized college was the only way I could change my life for the better," she said.
In 2009, Shand completed a bachelor's degree in mathematics. Four years later, she earned a master's in higher education leadership.  Shand, who speaks English, Spanish and some Portuguese, chose math because of the challenge it presents. For that same reason, she decided to become a devotee of Brazilian jiu-jitsu five years ago. "Brazilian jiu-jitsu is the only thing I have found that challenges my body and my mind," said Shand, who trains for more than 10 hours a week, not counting extra time working on conditioning, mobility and flexibility.
Mathematics isn't a physical challenge, but Shand long ago realized she needed to inspire students – and that wouldn't always be easy. In fact, that mental challenge can be  as hard as her sports competitions.
"You need to convince students that math is fun and cool," she said. "It's cool to figure out a difficult equation.
"In my class, I use pop-culture references. I sing, I dance, I do whatever I can to relate to students."
More Academics Articles