---
Academics
New Big Data Degree Leads to Hot Jobs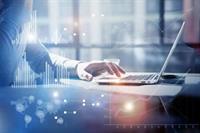 MDC's new program in Data Science and Analytics will provide a pathway to lucrative careers.
In our tech-driven economy, effective data analysis provides industries with a monumental advantage, accelerating advancements and competitiveness at an unforeseen pace. To meet the heightened demand for a talented workforce capable of deconstructing big data, Miami Dade College has launched a new program in Data Science and Analytics, providing a solid pathway to lucrative careers.
This enterprising initiative is the result of an MDC collaboration with NextEra and the Business Higher Education Forum, with support from the Mitchell Wolfson Sr. Foundation. Other industry partners include Siemens Energy, Oracle, Accenture, and other local affliliates in Miami-Dade County, Nicklaus Children's Hospital and Miami-Dade County Public Schools.
Global consulting firm McKinsey & Co. notes that, by as soon as 2018, the U.S. could face a shortage of 140,000-190,000 people with the deep analytical skills needed to process big data. The collateral negative effect of this gap in other related occupations will be threefold.
However, degrees in data analytics are almost exclusively offered at the graduate level, limiting the quality and quantity of potential candidates. Indeed, Miami Dade College is the only institution in the state of Florida to offer an undergraduate pathway in data science and analytics. The program culminates in a Bachelor of Science in Data Analytics, or shorter-term degrees such as an Associate in Science or College Credit Certificate in Business Intelligence.
"No industry is immune to it," said Dr. Djuradj Babic, director of MDC's School of Engineering and Technology. "The biggest winners will be the companies that unlock the vault to big data and technology analytics."
For students, these new programs are a gateway to secure, high-paying jobs, and Miami Dade College is leading the charge.
"We're creating a scalable undergraduate pathway that is replicable and applicable nationwide so that other institutions can adopt our model as a foundation for the development of their own big data programs," Babic said.
It's hard to imagine a single college degree that can deliver economic advantages to just about everyone – jobseekers, employers and consumers – and contribute to the overall health of the economy. Best of all, the degree can be attained with three stackable credentials that compose the program, offering instant and augmenting labor-market value to students as they continue their studies. The program begins with a College Credit Certificate in Business Intelligence, progresses to an Associate in Science in Business Intelligence and culminates in a Bachelor of Science in Data Analytics.
The demand for people who are able to deeply and meaningfully analyze raw data is high and ever growing, and average salaries are in the six figures.
More Academics Articles