---
Academics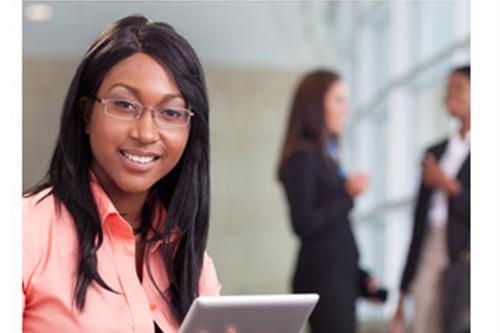 Climbing the Ladder – Virtually
After five years in health care, often working two jobs, Kearra Judkins saw an opportunity to advance her education when her daughter began kindergarten. The Orlando resident was drawn to MDC's Virtual College, a distance learning program.
"I needed a virtual program because of my work situation and my daughter, and another reason MDC appealed to me was the history of the college and its celebration of diversity," Judkins said. "The program granted me the flexibility to pursue a higher degree while running a household and working full time."
Judkins earned an Associate in Science degree at MDC's Virtual College in just a year and a half.
"It was a great overall experience. The program was challenging, but the teachers were very helpful and easy to get hold of," Judkins said. "If I had a question or needed clarification on an assignment,  I could reach out, even with a phone call. They were very supportive."
Judkins came to Miami for her graduation ceremony. "It was the first time my grandmother had seen a member of her family graduate from college. MDC has opened the doors of a world of opportunity for my daughter and me."
Now enrolled in MDC's online baccalaureate program and majoring in business administration, Judkins continues to work full time as a business care representative at SunTrust while also serving as a management consultant for Starke Lake Studios in Orlando. A believer in giving back, she is also active as a volunteer for a Community Reinvestment Act-eligible school.
With her daughter now 9 years old, Judkins is preparing for her next step academically – an MBA.
The successful Virtual College fan has some words of advice for others considering returning to school.
"Time management is key," she said. "You need to stay organized and stay on top of things. In the evening, you'll find my daughter and me doing homework at the dinner table."
More Academics Articles