---
Making Their Mark
Alum Aces Entrepreneur Competition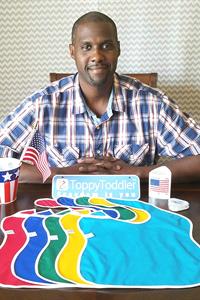 MDC alumnus Taj Mohamed won first place in the national 2016 Student Entrepreneur Awards.
Taj Mohamed, a recent alum of MDC's Supervision and Management bachelor's program, took first place in the 2016 Student Entrepreneur Awards, a nationwide competition sponsored by the National Association for Community College Entrepreneurship.
"This is a huge honor for me and the colleagues and professors who helped me along the way. It shows what MDC has to offer."
Taj, 38, is a single father. While studying at Kendall Campus, he refined the product that won him the award – a durable, easy-to-clean bib.
The inspiration happened in the kitchen. "I was feeding my son, and the rice and beans were going everywhere," Taj said. "I'm a neat freak, so it got me thinking about a bib and placemat combination to catch all the mess."
This wasn't Taj's first foray into entrepreneurship. He had begun his studies at MDC right after high school, but stopped attending. Later, unhappy working 12-14 hour days making pizza, he decided to earn money helping people move. He designed a flyer, posting it at apartments at peak moving times. It was a hit.
Determined to see if he could excel as an entrepreneur, he returned to MDC full time while selling his bibs on Amazon. Never having used a spreadsheet program, he did his accounting on paper.
"We learned Excel in my finance class. That's when I saw I was losing money."
He had hired employees at a local fabric store to make the prototype bibs. With funds running low, he taught himself how to sew.
"I went to Walmart,  bought a $60 sewing machine and figured it out. It was hard. I pressed 2,000 buttons a night by hand. One day I said 'I can't do this.' My son said, 'You can't quit, Daddy.' He knew I had to see this through."
After analyzing customer feedback, he simplified the bib, made it waterproof and jettisoned the placemat attachment. The new product was a hit with daycare centers nationwide. The company, Toppy Toddler USA, took in over $50,000 in revenues in 2015.
"This whole experience has blown me away," said  Taj. "Dr. Rahnuma Ahsan helped me network. So many people helped. Now I want to succeed and help others achieve great things, too."
More Making Their Mark Articles