---
Making Their Mark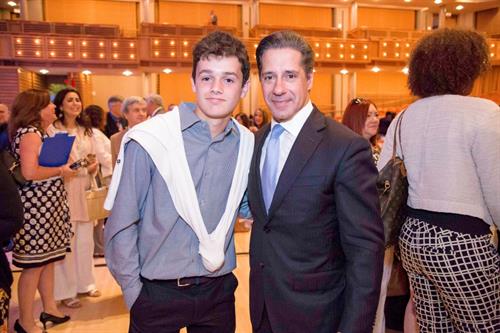 Smooth Maneuver
Marco Fernández, a 16-year-old student in the School for Advanced Studies (SAS) at Wolfson Campus, has captured a coveted Miami Herald Business Plan Challenge Award for 2016. Fernández won the high school track segment for an innovative plan to use imaging and 3-D printing to create custom insoles for those suffering from foot pain. The judges for the award were selected leaders from the Miami business and entrepreneurial community.
The genesis of the plan came from problems Fernández himself endured while playing competitive soccer. An attacker for the Coral Gables Toros, a club team, Fernández was plagued by pain when cutting and making other high-speed maneuvers. A tip from his sister led him to a podiatrist, Dr. Richard Santo Mallia, and to Moonlighter, a co-working "makerspace" studio equipped with both digital capacities and shop tools. The collaboration led to a production process that began with a 3-D scan of Fernández's foot, and finished with a 3-D printout of a customized insole.
Fernández is back on the pitch in full force now and looking to expand his entrepreneurial idea.
"This was really just a prototype," he said. "We are still looking for the optimal material to use for the insoles. I am thrilled it worked out, but now I want to see if we can help other people who have similar problems."
Fernández named the company Digifeet. After more testing, he'll decide if he wants to expand the company and produce the finished product himself or see if a larger shoemaker would be interested in acquiring his invention.
In the meantime, now a rising SAS senior, Fernández will be completing his high school diploma along with an MDC college associate degree this spring, thanks to the acclaimed dual enrollment program partnership between Miami Dade College and Miami-Dade County Public Schools.
"I have a lot of academic and career possibilities, but I know without a doubt that I want to be an entrepreneur," said Fernández. "I want to be someone who is facilitating and controlling a company, not just coming up with designs."
More Making Their Mark Articles