---
Making Their Mark
Excelling at MIT and Harvard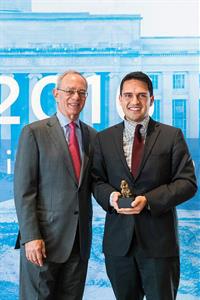 MIT President L. Rafael Reif congratulated MDC Honors College alumnus Sebastian Palacios, right, on winning the Golden Beaver Award for Leadership.
Catapulting from MDC's Honors College to the Georgia Institute of Technology, alumnus Sebastian Palacios landed a spot in the electrical engineering and computer science program at the Massachusetts Institute of Technology, where he has received a prestigious Golden Beaver Award for Leadership.
MIT was a long-term academic goal for Palacios, one he had in his sights since beginning college at MDC after having to flee Colombia with his family due to political persecution. His parents chose to come to the United States to further Palacios' educational opportunities.
"I never gave up my dream of attending MIT, and it would not have been possible without The Honors College at MDC," Palacios said.
A doctoral candidate, Palacios is developing a new type of advanced medical technology that combines synthetic biology, neuroscience, control theory, semiconductor technology and computer science to repair damage to the nervous system. The process involves engineering stem cells to regenerate the nervous system.
"Various diseases are difficult to treat precisely with entirely electronic tools, because the substrate of these tools, silicon, is different from the substrate of the body. So we make parts out of DNA and other materials to put systems into cells," explained Palacios. One possibility for this research is a processor-infused cell in the body that can recognize when a particular genetic profile is being expressed. In some cases, this information can be transmitted to an external, more powerful computer that can order the cell to react in response to the expressed genetic profile.
Palacios is also cross-registered at Harvard University thanks to the joint Graduate Education in Medical Sciences Certificate Program. His thesis advisor is Ron Weiss, director of the MIT Synthetic Biology Center.
"One of the founders of synthetic biology, Dr. Weiss is outstanding to work with," said Palacios, who also is mentored by pioneering neuroscientist Dr. Ed Boyden.
"Dr. Boyden won the 2016 Breakthrough Prize in Life Sciences," Palacios said. "It's like winning an Oscar and a Nobel prize. This has been incredibly rewarding."
More Making Their Mark Articles