---
Making Their Mark
Reaching the Stars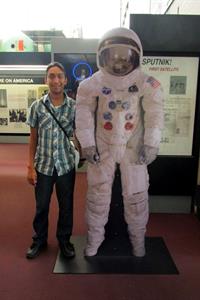 Alumnus Sergio Cruz enjoyed a recent visit to the Smithsonian in Washington, D.C.
MDC alumnus Sergio Cruz recently was awarded the first academic scholarship ever presented by the Rotary Club Miami-Kendall Chapter during a "Shoot for the Stars" celebration at Miami Executive Airport.
The 22-year-old Cruz, who recently graduated from Miami Dade College with an associate degree in aviation administration, won the scholarship by writing an essay about his love for aviation. His fascination for planes has been building since he was 5 years old, when his father used to take him to the edges of Miami International Airport to watch planes take off and land.
At Homestead High, Cruz started a club that fit perfectly with his interests. He called it the Homestead Public Rocketry Club, and it now has about 20 members, meeting once a month.
"We build model rockets and share the latest news on space," Cruz said. "We also fly our model rockets at Homestead Air Reserve Park."
Cruz plans to continue his education with a bachelor's degree in either aeronautical science or aerospace engineering.
Ultimately, he would like to become a manager of a spaceport, a site where spacecraft are sheltered, maintained, tested and launched.
Cruz is grateful for the role MDC has played in his education.
"I learned more than just aviation at MDC," Cruz said. "I learned life skills and made great friends."
— WV
More Making Their Mark Articles