---
MDC News Bytes
Shooting for the Stars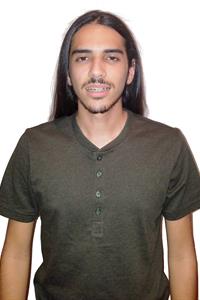 Luis Soto recently participated in a NASA program at the Kennedy Space Center.
Miami Dade College is not just an institution of higher learning, it's also a place that gives students opportunities for self-discovery.
That is certainly the case for 20-year-old Luis Soto, a New York native who takes courses at Miami Dade College's Hialeah and North campuses as well as online.
Soto was recently accepted into the NASA Community College Aerospace Scholar Program at the Kennedy Space Center in Merritt Island, Florida. And this is an unexpected path that could not have been possible without his MDC professors.
"I changed my major a couple of times until I found one that I really like," said Soto, who is now studying computer science. "MDC has helped me in being flexible and helping me look for a major."
Soto said two MDC professors have been particularly helpful in his journey – Rodolfo Cruz and Alicia Ibarra.
"Professor Ibarra helped me really enjoy computer programming," Soto said. "She gave me encouragement to pursue something in this field.
"Professor Cruz gave me an opportunity to learn more about programming. He also told me about the NASA program, and he helped me finally change my major to something I like."
Soto said his career goal is to "solve everyday problems," and the NASA program, including learning about Mars and the International Space Station, was a step in the right direction.
"When Professor Cruz sent that email, I wasn't really into NASA. But I thought this could be a really good opportunity, so I tried it," Soto said. "After the first few days of the online portion, I learned more about NASA. I told myself that I finally found something to aim for so I can solve problems and help the world."
More MDC News Bytes Articles