---
Powerful Partnerships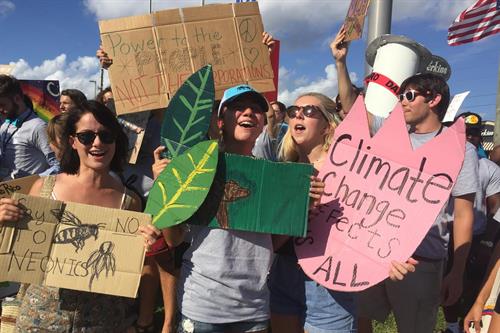 A New Mindset
With NASA's declaration as early as October that 2016 would be the hottest year on record, the global race is on to find ways to reduce carbon emissions as quickly as possible.
In September, MDC's Earth Ethics Institute (EEI) sponsored the participation of five students from a variety of campuses in Power Shift 2016-Southeast. The conference, held in Orlando in September, brought together young climate leaders from the region to discuss ways of shifting from carbon-based energy to clean and renewable sources of energy.
This year's student attendees from MDC included José Bregio, Jordan Llanes and María Parra from Kendall Campus, Priya Pershadsingh from North Campus and Salua Rivero from Wolfson Campus. At the conference, the students learned about organizing and moving forward effective campaigns to switch to clean power. They also met peers from other schools to build broader networks for their future initiatives.
"Power Shift was awesome," Parra said. "I learned about leadership and how to promote environmental awareness. It helped me realize that I can actually bring about change. It was also really great for networking. I met amazing people from the local community."
The current consensus of climate experts is that a global average temperature rise of only 2 degrees Celsius would have catastrophic consequences for human life on the planet. Continuing the current rate of emissions for 22 more years would mean topping the 2-degree threshold, hence the urgency surrounding the issue.
"Power Shift inspired me to continue in environmental and social activism," Rivero said.
More Powerful Partnerships Articles