The Writing Center
About Us
The Writing Center at the North Campus provides reading and writing assistance and continued instructional support to all MDC students. Instructors can assist students throughout the writing process, from brainstorming ideas and organizing them into an outline prior to writing a paper to providing feedback of students' rough drafts.
We are located on the second floor of building 2 in room 2210.
Services Offered
One-on-One Essay Consultations - Free!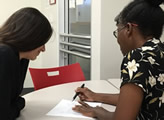 By appointment – Up to 3 times per semester, students can make appointments to meet with a lab instructor. These sessions are typically limited to 30 minutes, which is usually enough time to review a typical paper.
Walk-in - Students may also see a tutor without having an appointment; however, these sessions are subject to tutor availability. Walk-in sessions are handled on a first come, first served basis.

Prior to your Session
Make your appointment at least two days in advance if possible. This service is in high demand, so we cannot guarantee that an instructor will be available if you walk in without an appointment.
Bring a printed copy of your rough draft so that the instructor has a place to write notes.
Bring specific instructions for the assignment and a rubric for the assignment if provided by your professor.
Read over your rough draft BEFORE your session and jot down specific questions you have about the paper.
During your Session
You must be engaged and actively participate in the session. Your instructor will identify areas of weakness and make suggestions to improve your writing; however, your writing belongs to you, so any changes you make to it must be your own. The instructor will not make corrections to your paper for you.
You are encouraged to ask questions. Let the instructor know if you are unsure or need clarification of a concept he or she has presented to you.
As a show of respect to your instructor and a courtesy to others in the lab, turn off your phone or put it on silent mode and refrain from answering calls or texts during your session.
Writing Seminars - Free!
The Writing Center offers a series of free writing workshops. Topics include essay development, MLA/APA style, and grammar. For more information or to sign up, call 305-237-1630. Seating is limited.
Writing Skills Review Classes - ENC 1113
ENC 1113 – ENC 1113 (Writing Skills Review) is a 1, 2, or 3 credit elective course designed mainly for students who are preparing for or are currently in a college-level writing course and need additional instructional support. Students in ENC 1113 work with a lab instructor on strengthening their specific areas of weakness. Instruction is personalized for each student.
Hours of Operation
Monday
8:00 a.m. - 9:30 p.m.
Tuesday
8:00 a.m. - 9:30 p.m.
Wednesday
8:00 a.m. - 9:30 p.m.
Thursday
8:00 a.m. - 5:30 p.m.
Friday
8:30 a.m. - 12:30 p.m.