SGA President's Message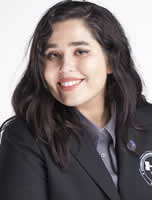 Yisbell Alvaro
SGA President
As the 2017-2018 Miami Dade College, North Campus Student Government Association Executive Board, we would like to extend a warm welcome and introduce to you the SGA board:
President: Yisbell Alvaro
Vice-President: Alvin Acuna
Executive Director: Ronscardy Mondesir
Secretary: Michidael Ceard
Treasurer: Alondra Angeles
Public Relations Director: Shama Torchon
Parliamentarian: Alessandra Pacheco
Director of Internal Affairs: Ana Jardines
Historian: Christopher Bennett

The Student Government Association is an organization that serves the student body by fostering leadership development and advocating for the need of our peers. The organization strives to enhance student engagement, coordinate student led initiatives, give back through community service, and provide support for clubs and organizations on campus.
This year, we strive to continue working with students in ensuring that Miami Dade College-North Campus is an effective learning environment. By doing so, we intend to continue cultivating the abundance of diversity, opinions, and experiences that the students bring to the campus. Student Government Association seeks to create an environment filled with opportunities where changemakers can flourish through the promotion of civic engagement. We recognize that every student has the ability to be a leader on campus and within their communities and promote their initiatives to do so. Fortunately, our institution has already created a multitude of change-makers over the years, and we hope to inspire students to make change and progress, not only within their community, but globally. Through passionate collaboration, we can create change and show that we are truly the spirit of Miami Dade College.
While serving as the voice for the students, one of our goals is to keep the student body informed about important legislative issues that will impact not only North Campus, but the entire Florida College System. Staying informed about these issues will provide opportunity for greater unity and understanding on campus. We find it important to continue strengthening the connection between the student body and our organization in order to accurately voice the opinion of the entire campus. We also plan to continue sustaining the partnerships with other student organizations. When we work together and speak with one voice, we can create a foundation for change on our campus and in our community.
We pledge to serve, represent, and advocate for the student body. The Student Government Association will empower students to become the prominent leaders of tomorrow. Together, we will stand for our individual rights as students and we will walk through the gateway of opportunity.
We are excited to serve the student body.


What is Student Government Association?
Student Government Association (SGA) is an organization that represents all students rather than one special interest group on campus.

SGA works as a liaison between the student population and the administration. We serve, represent and advocate for the students. All concerns, suggestions, comments, and solutions are addressed by SGA in a professional and powerful way, so that the faculty and administration are kept up to date as to what affects students. We also interact with the students and get involved in numerous activities. SGA is a gateway to so many wonderful things. You can gain valuable skills in civic responsibility, financial management, embracing diversity, serving the community, interpersonal and cross-cultural communication.

Join SGA and be part of the Excitement!




Student Government's Purpose
To promote leadership development and skills, which will enable the members to address appropriate concerns of the student body, the Florida College system, and serve as a vehicle through which to communicate these concerns to the appropriate persons including the Florida Legislative body.
Membership
Membership is available to every student registered at Miami Dade College, North Campus as well as the Carrie P. Meek Entrepreneurial Education Center. Becoming part of an organization making decisions that affect the entire student body is an indication of leadership, abilities and the kind of asset you can be to your career/school.

You may be wondering, why should I join? What's in it for me? To answer those questions, there are many benefits in joining SGA, which include:
• It has a remarkable effect on your resume and applications to upper division universities
• Making the best of your experience at MDC North
• Meeting new people, networking
• Enjoying campus events
SGA Meetings occur every Monday in Room 4207 at 2 pm. See you there!

To join fill out the Membership Application Form and bring it to the SGA Office along with your degree audit.

Membership Application Form (.PDF, 2MB)