Cloud Computing Literacy with Amazon Web Services
Summer boot camps at no cost
Field trips
Industry networking sessions
College Credit Certificate in Enterprise Cloud Computing
Preparation for industry certification exams
---
Providing students with cloud computing literacy skills using Amazon Web Services platform
---
Dade Enterprise Cloud Computing Initiative (DECCI) is a partnership with Amazon Web Services that aims to increase the number of certified cloud computing technicians from underrepresented minority groups to meet local and national workforce needs. The program is designed to provide fast-track training for students in Miami-Dade County, while strengthening existing career pathway programs at Miami Dade College.
From the Global Knowledge Salary Report - Dec. 2018, developing and acquiring cloud IT skills is an absolute must. Nowadays, many organizations are held back on major IT initiatives because of their lack of cloud skills. IT decision-makers reported having a difficult time finding qualified IT cloud talent. 
According to global market intelligence firm IDC, global spending on public cloud computing will hit $162 billion USD in 2020, an increase from $67 billion in 2015 USD.
Forbes magazine (2017) ranked Amazon's AWS Certified Solutions Architect - Associate certificate within the 15 Top-paying IT certifications in 2017, with a median salary of $119,233.
We are offering a two-week boot camp aiming to introduce cloud computing by covering topics such as:
Cloud101 Summer Boot Camp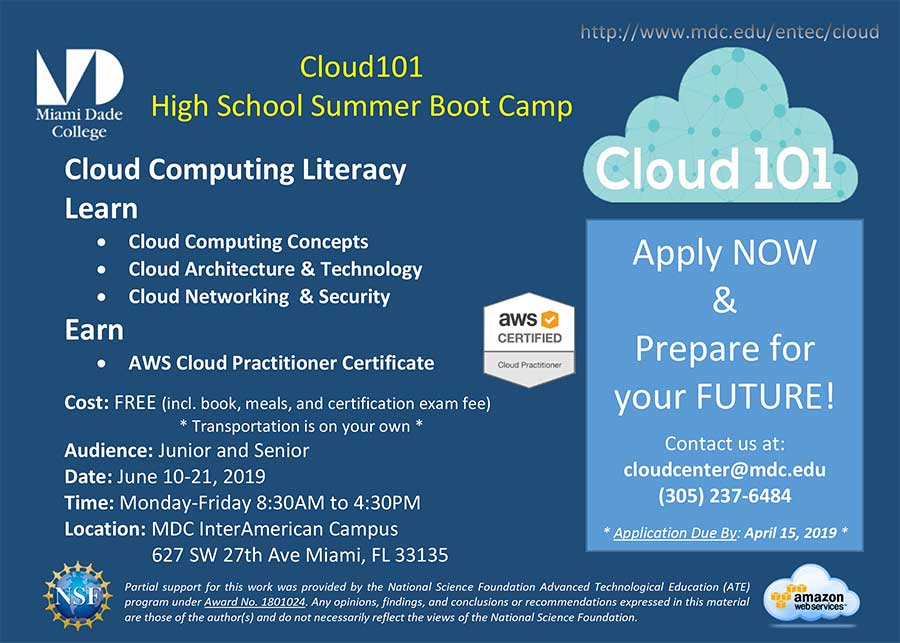 Cloud Computing Concepts
Cloud Architecture
Cloud Technology
Cloud Networking and Security
Business Value
Billing and Pricing
After completing the boot camp, students will be prepared for the AWS Cloud Practitioner Certification exam, an entry-level exam to demonstrate knowledge about the AWS Cloud platform.
Scholarship Information
Seventy-five (75) DECCI (Dade Enterprise Cloud Computing) scholarships available on a first-come first-served basis. For the academic year 2019-2020, scholarships in the amount of $400 will be given to each student who:
Successfully complete CTS1145 and certify in AWS Cloud Practitioner (for Fall 2019) and/or
Successfully complete CTS2375C and certify in AWS Solutions Architect - Solutions (for Spring 2020)
Students (for Summer 2020) who complete (1) and (2) will be eligible to apply to an all-expenses paid two-week trip to Paris, France for a cloud computing educational experience. Four MDC students will be selected.
Each student can earn up to $800 ($400 per class). Also, AWS certification exam fee will be reimbursed up to two attempts per student.
Eligibility & Requirements
Eligibility: Junior and Senior high school students eligible for dual enrollment at MDC
Cost: FREE (incl. book, meals, certification exam fee)
Transportation: *Transportation is on your own *
Date: June 2020 - exact dates to be determined
Time: Monday - Friday 8:30 AM to 4:30 PM
Application Deadline
Registration for the 3rd annual Cloud101 Bootcamp will open on February 2, 2020.
After completing the boot camp, continue your education with the CCC in Enterprise Cloud Computing.
College Credit Certificate (CCC) in Enterprise Cloud Computing
The Enterprise Cloud Computing Credit Certificate program is designed to provide an opportunity to establish a foundation in architect scalable, highly available application solutions that leverage cloud computing services. Utilizing best practices focusing on cloud security, cost and reliability, graduates of the CCC in Enterprise Cloud Computing will utilize core design patterns and infrastructure expertise to implement solutions to deploy and maintain workloads and applications. Graduates are prepared for entry-level job roles such as Solutions Architect, Cloud Architect, Cloud Engineer and Cloud Application Architect.