Important Financial Aid Notice
Please be advised that all financial aid students who plan to attend MDC during the Summer A and B Terms (6 and 12 week courses) must register for all classes prior to May 16 for their classes to be covered by financial aid.
The Honors College: "Pathway to Greatness"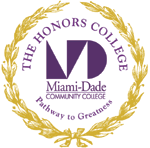 The Honors College offers a challenging and collegial environment in which academically gifted students collaborate with MDC faculty scholars in the exchange of ideas and creative works. Students select from a wide array of honors courses, participate in seminars and external activities and are provided individualized support services and transfer privileges. Financial Aid and scholarship opportunities are available to eligible students. Visit the Honors College Website for more information.
Admissions
You can apply for admission to Miami-Dade at any time. Try our convenient Online Admissions form. Or if you prefer, you can download an electronic (PDF format) application, print it, fill it out, and send it in. Or just come in to one of our campuses and fill out your application in person.


Important Dates
Here are some important dates and deadlines for the Fall 2002/Spring 2003 semesters.

Event
Fall 2002
Spring 2003
Self-Registration begins for credit and non-credit classes
M June 10
M Oct. 7
Walk-up registration at campus registration offices
M July 22
M Nov. 18
Last day to register before being assessed $25.00 fee
T Aug. 27
M Jan. 6
Classes begin
Weekday & Evening
Weekend (Sat, Sun)
W Aug. 28
S Sept. 7
T Jan. 7
S. Jan. 11
Last day to change courses without penalty; withdraw from classes with refund; add, drop, or change sections of credit courses without signature of instructor
W Sept. 4
M Jan. 13
Last day to withdraw from a course with a grade of W; withdraw from all courses with grades of W; register for Institutional Credit by Exam
T Nov. 5
W Mar. 19
Last day of classes
F Dec. 13
R Apr. 24
FINAL EXAMS
Regular weekday and evening classes
M Dec. 16
through
F Dec. 20
F Apr. 25
through
R May 1
Student final grades available on web after 11 p.m.
S Dec. 21
F May 2
Last day to apply for graduation and have name appear in commencement program
M Mar. 31
M Mar. 31

Emerging Technology
Do you want to refresh your technology skills, or just interested in joining the online revolution? MDC's Emerging Technology programs may be just what you're looking for. Visit our High-Tech Education page for more information.
Online Student Services
Tired of standing in line? Caught in a time crunch? You can now register and pay for classes, check for course availability, print your schedule, and more from any web browser, 24 hours a day, 7 days a week. Visit this page often for these services and others that will start in the near future.

New Programs
Some of MDC's newest programs are Histologic Technology, Computer Engineering Technology, Marketing Management, Telecommunications Engineering Technology, Veterinary Technology, and Dental Office Management. Visit the Academic Programs pages for a complete list of offerings.