---
College Notebook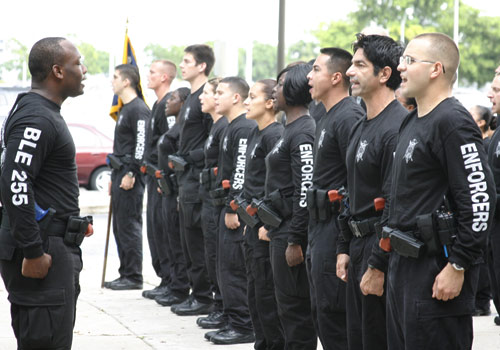 Protect and Serve
When you walk the halls of Building 8 at MDC's North Campus, cadets in pressed uniforms will pause to greet you as "sir" or "ma'am." You'll find also that students don't make it a habit of missing or skipping classes, even those that begin at 8 a.m. The level of attention and interest you find in most classrooms is astounding. Good public service demands discipline.
Chief Tom Hood, the director of criminal justice training, proudly shares that injuries in high-contact defensive training courses are a rarity, as are mishaps at the shooting or driving range.
While in the academy, cadets devote themselves full time to training. "They aren't even allowed to leave campus for lunch," Hood shares.
The regiment serves to reinforce the discipline that will be required for anyone entering the law enforcement field.
Carelessness on the job can mean lost lives.
Hood should know. The MDC alumnus is a veteran law enforcement officer who served as the chief of police for the city of North Miami from 1997 to 2002. North Miami is one of the county's most diverse municipalities, serving a large Haitian immigrant community, Hispanics, retirees and Jewish Americans.
As the top cop there, Hood was a champion for community policing, police work that demands that officers get to know the communities they serve. He brought that same passion to MDC's law enforcement training programs.
In addition to learning the technical aspects of their jobs, cadets study interpersonal and cross-cultural communications as well as ethics. While the state only requires 770 contact hours, for example, MDC's curriculum includes 844 mandatory hours, Hood explained.
"All of the training cadets receive in our academy is essential for molding not just a competent but excellent police or correctional officer," Hood said.
The need is certainly there.
Demand on the rise
The U.S. Department of Labor predicts a 29 percent increase in the demand for public safety professionals by 2010. In Florida, that means roughly 2,000 new jobs for police officers and other law enforcement personnel annually.
The College is keenly aware of this demand. As a result, the School of Justice, located at North Campus, has led the region in training new and in-service officers. In addition to Associate in Arts and Associate in Science programs in criminal justice administration and criminal justice technology, the School of Justice offers a four-year Bachelor of Applied Science (BAS) with a major in public safety management.
Qualified students choosing to enter either the Basic Law Enforcement Academy or Basic Corrections Academy spend the last semester of their four-year program in one the basic recruit training programs.
Students completing either academy track will find that in four years they have earned a BAS and are eligible to sit for the State Officer Certification Exam in either law enforcement or corrections.
Enrollment is on the rise in all of the programs. Since 2004, there has been a 22 percent increase in enrollment in all credit and noncredit programs in the School of Justice. The basic law enforcement program, for example, averages 224 students each year; 360 students complete the state corrections program per year.
It should come as no surprise the School of Justice is the premier training ground for police, correctional and probation officers in the state of Florida.
Assessment
Whether they earn their degrees at MDC or not, chances are new officers must pass through a Miami Dade College testing center before getting assigned their first beat. That's because MDC is home to the only Florida-based basic abilities testing program.
By statute, every police, correctional and probation officer in Florida must pass a basic abilities test.
Miami Dade College created the Florida Basic Abilities Test (F-BAT) to fulfill the request of the Florida Department of Law Enforcement's needs for testing candidates for law enforcement, corrections and correctional probation positions. This test was developed to measure basic abilities at the minimum level required upon entry into basic recruit training programs.
Annually, more than 7,000 officers throughout the state are tested at MDC's North Campus or at one of its satellite testing centers throughout the state.
"It's absolutely significant that we administer the basic abilities tests," said program manager Lebsica González. "We have intimate knowledge of state regulations, what is going on in the training facilities and what an officer will experience when he gets to work. This creates a lot more relevance."
González said the School of Justice works with subject-matter experts to develop field-based questions for the examination.
The College also administers promotional exams for officers hoping to move up in rank within their departments as well as psychological screenings for job candidates. Psychological screenings protect the public from candidates who may be unsuitable for police work and protects the department from liability, explained Dr. Richard Zonderman, a clinical psychologist and program manager.
"In most cases, departments are able to screen out candidates who are mentally unstable," Zonderman said. "Generally, the issue is suitability. Take, for example, aggressiveness. An applicant might not be able to show enough aggression, and we certainly understand that as a police officer some aggression may be necessary. But there is the other extreme; you can't have too much aggression because an officer must be able to exercise patience."
State leader
Because of MDC's reputation for innovative leadership in the educational arena, more than 30 law enforcement, corrections and governmental agencies supported the initiation of the new BAS degree. Other degree programs are in the works, including a new associate degree track in crime scene investigations.
"I am proud to say that I am a former student of Miami Dade College," said Miami-Dade County Mayor Carlos Alvarez, a former police director and MDC alumnus.
"The College has been a springboard for individuals looking to enter the workforce as well as for those who aspire to higher education. Of particular note are Miami Dade College's public safety courses, degrees and training programs, which have produced some of the finest and most dedicated police officers, corrections officers and first responders in our community."
— Gariot P. Louima