---
Academics
Psychology for the people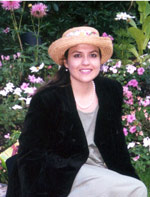 Dr. Mayte Insua-Auais
Psychology professor Dr. Mayte Insua-Auais offers her teaching philosophy, "A great teacher never tries to demand her vision be shared. She simply invites you to stand beside her and see for yourself."
Insua-Auais lives by this successful perspective, and it shows in both her work and her life. She cares about educating her students and incorporates new technology into her pedagogy to maximize these college students' educational experiences. And she is passionate about the lives her students lead outside of MDC and offers a variety of service-learning and academic activities through the Psychology Club, which she founded.
Chair of the Social Science department at North Campus Patti Harris says, "She always seeks out cutting-edge technology, like podcasting and video-casting, to use in her classroom. She is very much in tune with her students' learning styles."
In addition, she is always on the lookout for outside activities that complement her classroom teaching. In response to the need for more co-curricular activities for psychology majors, she founded the Psychology Club.
The club has visited Miami Children's Hospital for 'grand rounds' where students meet young patients and learn about their treatment. They have also collaborated with the local homeless shelter Camillus House to offer volunteer and fundraising assistance. In addition, the club put together a toy drive to gather items to be sent to an orphanage in need in China.
According to Insua-Auais, the purpose of the club's involvement with these charities is to improve the human condition, which is at the core of psychological functioning.
In addition, the club brings in local leaders in the field to present lectures on the many career paths available for someone with a psychology degree, to offer guidance as students make choices about their academic futures.
"Since the day I started working at MDC, my goals were to make the field of psychology better known and increase its accessiblity to students." Due to the club's success, she is now working to bring Psi Beta, a national psychology honor's society, to the College.
"I can truly say, I love my job," she summarizes her role, "I consider myself an educational advocate for MDC and a student-centered liaison between the student population, the field of psychology, MDC and the real world."
— Elizabeth Tracy
More Academics Articles