---
Academics
Program makes a difference in animal care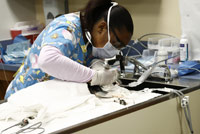 Students in MDC's Veterinary Technology program focus on critical thinking skills.
MDC's Veterinary Technology program serves as a portal of opportunity for aspiring veterinary technicians in South Florida. One of only three accredited programs by the American Veterinary Medical Association in the state, and the only one south of Brevard County, MDC is making a significant difference in the lives of area animals.
The program's perfect student pass rate of 100 percent on national and state certification exams proves that its mission of providing a stimulating and encouraging learning environment for a progressive education is succeeding.
"For years, veterinarians have hired people with no experience and then taught them how to place catheters, monitor anesthesia and other things," said Professor Dr. Lois Sargent. "Our program is helping to end that unschooled practice."
MDC students who earn the Associate in Science degree can go beyond performing the mechanical requirements of the technician job and use critical thinking skills to solve problems.
For example, they learn the subtle nuances of monitoring anesthesia so potential life-threatening issues can be avoided. They also graduate with an understanding of how drugs work within the body and can clearly explain the process to reassure nervous animal owners.
The College's Veterinary Technology program teaches students the profession's basic principles and disciplines, enables them to function in entry-level certified veterinary technician positions and, most importantly, reinforces the importance of the human-animal bond as they provide care for animals in need.
The program also encourages students to continue learning on a life-long basis so they can readily adapt to challenges in this rapidly evolving field.
Sophomore Nicole Alvarez said she is enthusiastic about the wealth of knowledge and experience she is gaining.
"We are taught the rationale for doing things correctly, which is not always how you learn on a job," she said.
"In addition, many of the veterinarians and technicians at the clinics where we intern take us the extra mile. When we graduate, we will be able to make a difference in the quality of animal care."
— Barbara Bickel
More Academics Articles