---
Alumni News
Alumna shoots for the stars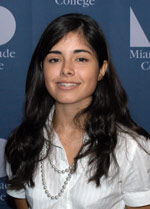 Nicole Cabrera
Recent Miami Dade College Honors College graduate Nicole Cabrera mused about the things she most appreciated about her time at MDC. What stood out was how much she valued her former professors.
"I am so grateful to have had the professors I did. They played a huge role in propelling me forward," she said.
This environment certainly did propel her, almost to the stars. Cabrera is now completing her third semester at Georgia Institute of Technology, in astronomy.
She was selected to spend last summer with a research team studying transiting extra-solar planets at the the Institute for Astronomy at the University of Hawaii at Manoa. And the data she collected on the Mauna Kea telescope on planet WASP-10b was published in a variety of astrophysics journals.
The research involved using an ultra-sensitive camera to detect the minute decrease in brightness that occurs when WASP-10b passes in front of its star, over 300 light-years away from Earth.
This information allows researchers to measure the size of the planet – and can be used to measure the diameters of other worlds outside our solar system.
Quite an achievement for a 21-year-old.
Cabrera, who was born in Chile and raised in Miami, is already planning her next professional steps: a doctorate in astronomy.
During her two years at MDC, Cabrera acted as both executive editor and then editor-in-chief of Miambiance, the literary magazine at Kendall Campus, which garnered a variety of national awards during her tenure. She was also a member of the prestigious Phi Theta Kappa international honor society and the Florida Engineers Society.
At Georgia Tech, Cabrera continues to reveal her range working as a physics teaching assistant and singing in the chamber choir. Even so, she still misses MDC.
"MDC is a good environment to excel. I was encouraged to do everything," she said.
This nurturing is what fostered Cabrera to grow into a published researcher and an all-around accomplished individual. She says she will always remember MDC as the source of her strong work ethic as she moves forward.
— Elizabeth Tracy
More Alumni News Articles