---
Features
More kudos for MDC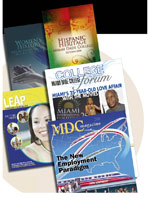 Award-winning MDC publications
Miami Dade College closed 2008 with several major awards and distinctions in the areas educational programming, leadership, information technology, service learning, marketing and publications, and environmental awareness.
Dr. Will Holcombe, chancellor of the Florida Department of Education's Division of Community Colleges, presented MDC with the Best Practices Award in Academic Affairs. He lauded the college for its innovative use of interdisciplinary learning communities to achieve the learning outcomes so critically important to student performance and success.
MDC's District Board of Trustees received an Equity Award from the Association of Community College Trustees for having demonstrably enhanced and expanded educational programs and opportunities for minority and female students.
Additionally, the the National Council for Marketing and Public Relations awarded the College's marketing and publications department with Gold Paragon Awards for College Forum (newsletter); Leap (student handbook); Kendall Campus' 40th Anniversary marketing campaign; registration postcards; and brochures for Black History, Women's History and Hispanic Heritage months.
College Forum, Leap and MDC magazine also received first-place Awards of Excellence from the Florida Association of Community Colleges, Institutional Advancement Commission.
— Staff Report
More Features Articles